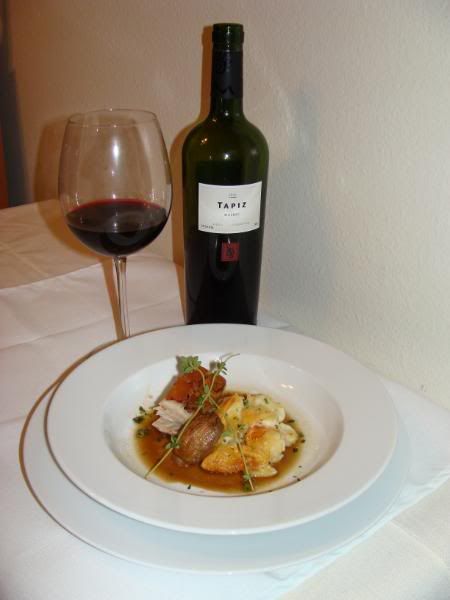 We continue our review of orenji's recently completed Chef's Cheese Degustation event with a look at course six: our take on refined "comfort food." In conceptualizing this course, we sought to contrast deep flavors and textures with herbal high notes and acidic undertones. The focal point of the dish is our (now) famous slow braised pork belly-- we braise our pork nearly twenty-four hours, until the texture is meltingly smooth and tender, and the flavors are concentrated and robust. The tender meat was beautifully complemented by our take on "macaroni and cheese"-- handmade orecchiette pasta baked in a delectable smoked gouda (The Netherlands) bechamel. Crisp on top, and creamy on the inside, the smoky flavors of the pasta rolled off the plate and onto the palate!
To finish the dish, slow roasted shallots added earthy undertones, crispy pork "cracklings" added textural crunch, and fresh thyme and juniper berry pan jus provided the perfect herbal and acidic foil to the richness of the meat and cheese! Altogether, this is one of our favorite dishes-- something we love to serve to friends and guests!
As with the majority of the courses created for our Cheese Degustation, we paired a delicious wine to complement the food. In this case, we chose an Argentinian Malbec--
Bodega Tapiz, Malbec, 2004, Tupungato, Argentina.
This Malbec was rich in fruit and acid, while finishing with a soft and oaky taste on the tongue-- mirroring the acid in the pan jus and the smokiness of the pasta! Altogether, a wonderful gustatory experience!
In our next course,
orenji's
Asian influence creeps back into the meal with a delightfully refreshing palate cleanser. Check back, won't you?!