We are pleased to announce that the
Orenji

2015 Winter Holiday Pricing Guide
is now available! To access the guide, please visit the link on the lefthand sidebar of the blog (or click
here
). We have limited ourselves to customer "favorites" this year, including our famous
assorted holiday cookies in 49 varieties
. We are excited to introduce five new cookie flavors for 2015, with one "returning favorite" introduced last season.
From all of us at
orenji

, we wish you a happy start to this wonderful holiday season!
On this year's
orenji
Winter Holiday Pricing Guide, you will find such treats as:
Orenji hand-crafted chocolates, candies, & confections
hand-crafted Hawaiian sea salt caramels enrobed in milk chocolate
Handmade Marshmallows
Our handmade marshmallows are light, fluffy, and deliciously sweet. Infused with a variety of flavors, these will bring out the child in anyone! (Available in: Vanilla, Cinnamon Scented, or Pink Peppermint Stick)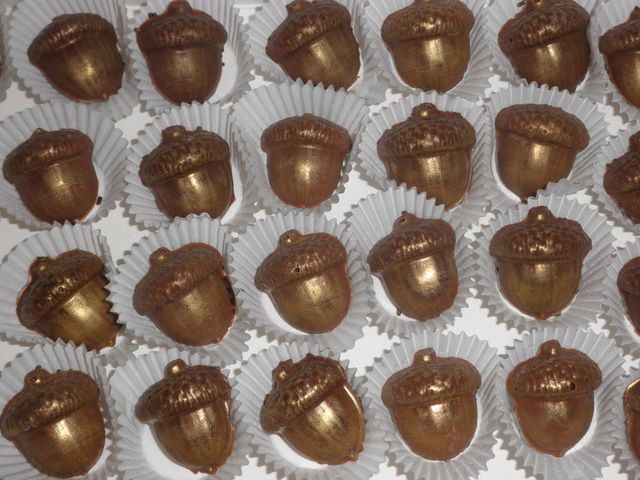 Garam Masala-infused Milk Chocolate Acorns
Smooth Belgian milk chocolate infused with Indian spice blend Garam Masala- a unique and perfect ending to your holiday meal! Each acorn is hand molded and brushed with beautiful 23 karat edible gold.
Malted Milk Candy Brittle with Milk Chocolate
Crunchy, butter malted milk flavored toffee brittle, covered with a smooth, creamy layer of Belgian milk chocolate, and topped with crunchy malted milk candy bits. Addictive and delicious!
Toasted Cashew and Espresso Praline Brittle
Peanut Butter, Salted Peanut, & Milk Chocolate Gourmet Caramel Corn
Hand candied caramel corn with peanut butter, peanuts, sea salt, and milk chocolate.
holiday desserts
Caramelized Pear Cake with Salted Caramel Frosting
Dense six layer cake full of caramelized pear slices layeredbetween decadent salted caramel frosting. Shards of Espresso-Cashew Brittle add textural and bitter contrast to this delicious dessert!
Bittersweet Chocolate and Pumpkin Cheesecake
White Chocolate and Spiced Cranberry Cheesecake
Milk Chocolate and Dulce de Leche Cheesecake
Maple, Dried Cherry, and Toasted Pecan Cheesecake
Bourbon Pecan Tart with Bittersweet Chocolate
Flaky tart crust filled with luscious pecan filling infused with Bourbon, and spotted with bittersweet Chocolate chips. Rich and satisfying after any meal.
Caramel Pumpkin Pie
Sweet Potato Tart with Marshmallows and Toasted Pecans
Blueberry Lemon Tart with Almond Streusel
Pumpkin and Bittersweet Chocolate Cake
Dense and sweet pumpkin spice cake with the finest Belgian bittersweet chocolate chips. You can't eat just one slice!
holiday breakfast pastries and baked goods
Assorted Scones
Our scones are dense and moist, just as they should be! Available in many flavors, these scones are the perfect start to any holiday morning! Scones are sold by the dozen of a single variety, available in:
Caramelized Pear and Vanilla, Bittersweet Chocolate Chip and Dried Cranberry, Pumpkin Spice, Apricot Cream, Vanilla Cream with Currants, Lavender, Honey, and Vanilla, Maple, Pecan, and Toasted Oat, or Gingerbread
Vanilla, Pear, & Crystallized Ginger Bread (mini loaves)
Apricot and Almond Shortbread Bars
Buttery and flaky vanilla shortbread topped with fresh apricot, orange, and almond filling, streusel topping, slivered almonds, and confectioners' glaze. Sweet and irresistible!
Blueberry Gingerbread (mini loaves)
Bacon, Sage, and Cheddar Buttermilk Biscuits
Flaky buttermilk biscuits full of flavorful Applewood smoked bacon, sharp Cheddar cheese, and fresh picked sage. Salty and a bit sweet, the perfect morning biscuit or accompaniment for your holiday dinner.
All Winter Holiday products are packaged in gold, brown, or white boxes with holiday satin ribbons and decorations. Some items, due to their fragile nature, may be unavailable for shipping.
To order, send us an email or call us. We look forward to helping make your holidays exceptional!