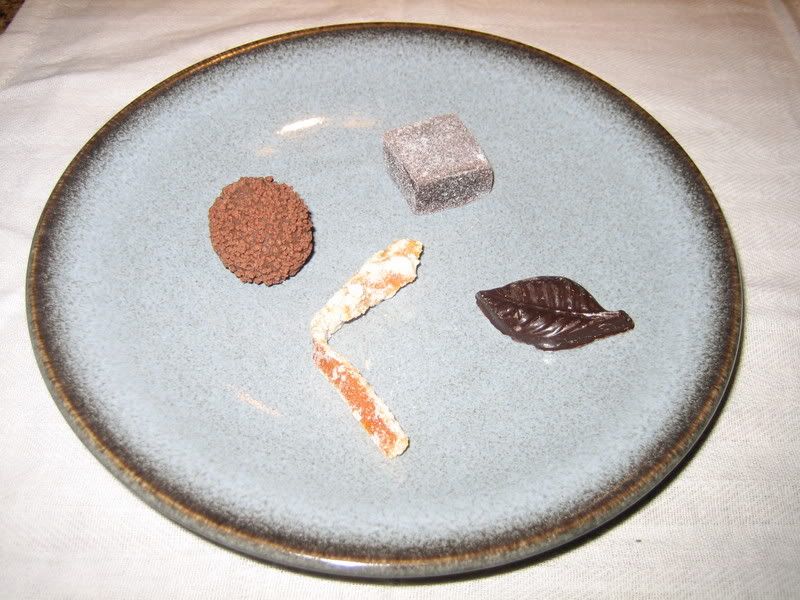 To finish our Colorado chef's degustation menu, we turned to some old favorites-- mignardises. Mignardises are small bites, generally sweet in nature, that finish a meal. In this case, we wanted to highlight diverse flavors, giving our guests' taste buds one last exciting culinary experience. To that end, we create four bites.

The first was a milk chocolate truffle infused with the pungent Indian spice blend, garam masala. Generally used in savory cooking, this spice blend (containing cinnamon, cardamom, cumin, cloves, nutmeg, caraway) provides deep and rich flavors to the smooth chocolate.

The second mignardise was a hand-crafted Concord grape jelly-- starting with pounds of fresh grapes, the flavor of the delicious, naturally sweet fruit, was condensed and jelled, leaving the consumer with a burst of flavor reminiscent of a summer's day.

Our third tasty post-meal bite was a Belgian bittersweet chocolate molded leaf, infused with Mexican cinnamon, smoked sea salt, and chili pepper. The spicy, salty, smokey flavors melded with the dark bittersweet chocolate to create an exciting flavor combination on the tongue-- perfect with a glass of hearty red wine or port!

And lastly, we finished our meal with an orenji classic-- hand-candied orange peel-- one of our favorites.

Tomorrow, we'll post the menu, for your review. Thanks for checking in, and taking this culinary ride with us as we relived our recently created and prepared Colorado chef's degustation. Cheers!