We continue our review of late summer's Hawaiian-Asian Birthday luau with a look at the desserts which followed the savory buffet. Not only was there a spectacular cake (which we'll review tomorrow), but also a number of "small-bite" desserts.

One of our favorite desserts, here at orenji, is guava cake-- tart and sweet, it reminds us of childhood trips to Hawai'i, as well as current visits to dear friends who live there. No trip to Hawai'i is complete without guava cake, and this party provided an opportunity for us to bring a piece of that experience to the mainland. We created bite-sized guava cakes, with a sweet guava-scented cream and glaze, and crunchy toasted coconut. Edible flowers completed this delicious and beautiful cakes.


Along with the guava cakes, we prepared another island-inspired favorite-- Pineapple upside down cakes with macadamia nuts. Dense buttery cake was topped with fresh
pineapple
and brown sugar caramel to create a rich and filling dessert!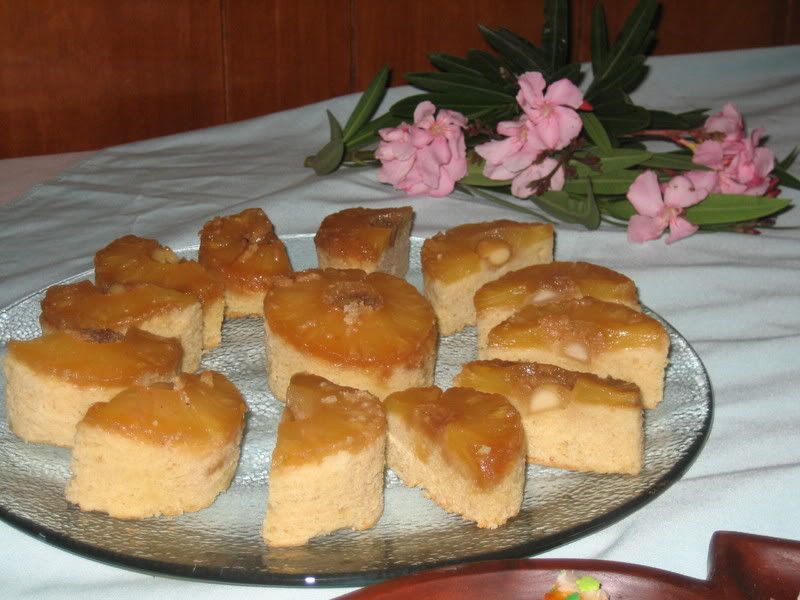 A selection of cookies completed our dessert selections. Buttery
shortbreads
with
lilikoi
(passion fruit) preserves and mango jelly were frosted with vanilla icing and tropical decorations. Toasted coconut and macadamia nut
shortbreads
were a rich and buttery contrast to the lightness of the fruit cookies.
Along with our small-bite desserts, we prepared a birthday cake. Check back tomorrow to see the crowning moment of the Hawaiian-Asian Fusion Luau!