We recently completed an eleven-course meal for friends and family in Florida... unfortunately, technical difficulties prevent us from sharing photos of all the courses. However, we did want to highlight the soup course-- a flight of chilled soups which represent our culinary aesthetic: intense simple flavors of the ingredients themselves, concentrated through long or slow cooking.

Of course, the practice of serving "shots" of soup allows multiple flavors to reach the guest-- with each taste being just enough to tickle the palate without overpowering it!


In this course, we served three chilled soups, each fresh and "clean" representations of their base ingredients. Starting on the left, the first soup is English pea with black truffle oil, black truffle pieces, and a Parmigiano-Reggiano cheese crisp. The fresh sweetness of the peas mingled delicately with the earthy flavors of the truffles and truffle oil. The cheese crisp added a hint of salt, tying the two elements together.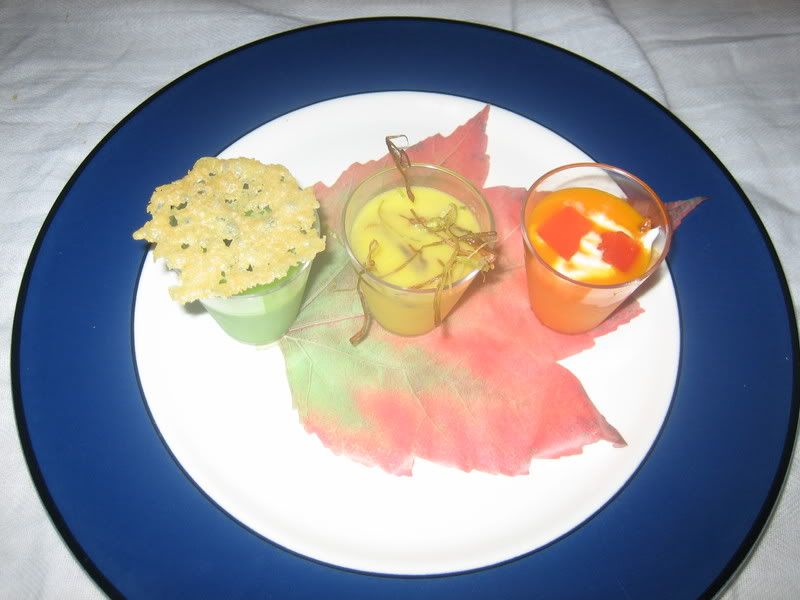 In the middle, a crisp and refreshing soup of golden beets-- acidic and tart, this creamy soup was finished with frizzled leeks, adding both a textural and flavorful contrast.

Lastly, a chilled soup of pan-glazed organic carrots-- sweet and naturally creamy. A ginger crema added depth of flavor, while blood orange gelee "ice cubes" accented the sweetness of the soup and heat of the ginger with acid.

Altogether, the soup course was a wonderful example of how natural flavors can be highlighted without overpowering spice or tricky cooking techniques. Simple, clean flavors. Simple, clean cooking!

Our next post will being our review of the cheese degustation previously mentioned. Believe us when we say you don't want to miss it! See you soon!