For the same retreat we prepared the organic "farmer's market" fruit skewers and yogurt dip (discussed in our previous post), we also created a delightful assortment of baked goods, beginning with a trio of scones.
Our scones are moist and delicious, lightly sweetened, and overflowing with fresh fruits and flavors-- perhaps more so than a "traditional" scone. They certainly make for a great start to the day paired with tea or coffee...
The first of our three scones began with butter and heavy cream, organic flour, freshly squeezed Valencia orange juice, toasted almonds and Belgian bittersweet chocolate. The bittersweet chocolate, acidity of the orange, and nuttiness of the almonds created a well-balanced sweet-- drizzled with "extra" chocolate, these were perfect for the chocolate-lover in attendance at the retreat...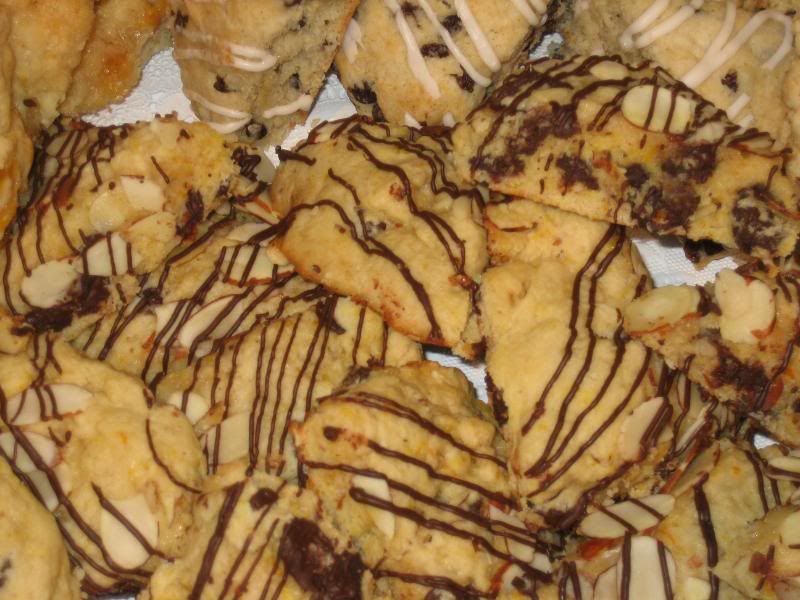 Our second, and favorite, of the scones we created here at
orenji
were apricot cream scones-- packed with juicy locally-produced apricots. These scones were so moist and delicious, we couldn't stop eating them ourselves! With undertones of vanilla, and crunchy chunks of sugar glistening on their tops, these scones seemed right out of a culinary fairytale!
The last of our trio was the most "traditional" of the scones we created for the dedicated retreat-goers: Tahitian vanilla and brandy-macerated black currants flavored this simple and sweet cream scones. Light and crumbly, a slight added sweetness was provided by a drizzle of confectioners icing across their tops.