People celebrate Halloween in different ways. One friend and client celebrates his favorite color at Halloween-time-- the color orange. As it happens, orange is also a color near and dear to our hearts, here at orenji catering. We were both excited and enthused to be involved in this annual celebration of our favorite color!

The menu proved challenging, as each item needed to be orange in color, flavor, or theme. Being autumn, we were able to rely on plenty of seasonal ingredients like pumpkin, apples, kabocha squash, and orange sweet potatoes. The results were wonderfully orange and delicious!




We'll start with a description of the desserts and sweets, as nothing says Halloween like a good "treat!" Caramel lady apples and seckel pears, covered in chocolate and toasted nuts were the showpiece dessert of the party. More pictures and description of the creation process of these sweet treats will appear in later posts.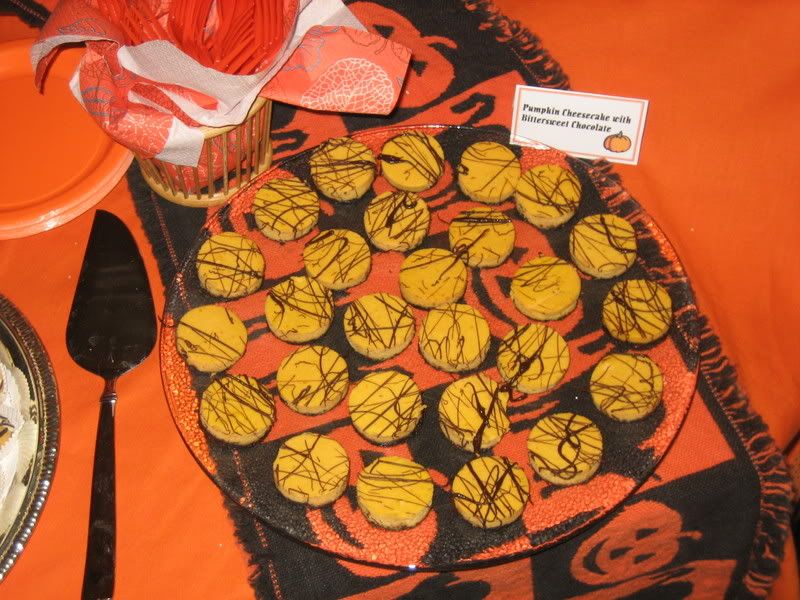 Individual desserts that were easy to eat and didn't require forks were the goal of the evening. Two such desserts (as pictured above) included caramelized orange and pistachio creme tartlettes, and pumpkin cheesecakes with bittersweet chocolate. Also prepared (as pictured below) were carrot cupcakes with brandy-soaked golden raisins, toasted coconut, and cream cheese frosting, as well as white chocolate and pumpkin spice truffles.




Rounding out the dessert table was a homemade popcorn flavored with orange and milk chocolate, as well as candied orange peel dipped in bittersweet and white chocolate.




While there were no "tricks," the treats were festive and enjoyable. Savory and snack foods prepared for the "celebration of orange" party will be discussed in our next post. Be sure to check back!