We're always looking for a reason to try new dining establishments... and a recent visit from a dear friend and fellow food enthusiast provided the perfect reason for a leisurely lunch at monsieur Marcel pain vin et fromage. Nestled in the busy farmer's market at The Grove in Los Angeles, Monsieur Marcel's offers a quaint wine bar and bistro, delicious and classic French cuisine using the freshest ingredients, and a gourmet French market selling wine, cheese, bread, chocolates, and other continental treats.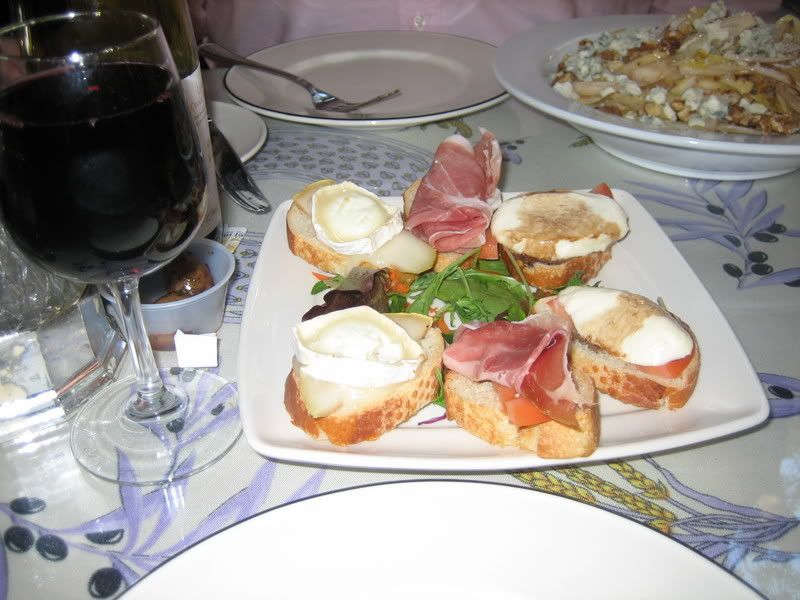 Over a leisurely lunch, we shared a delicious assortment of small plates, including:

"ronde de crostini:" a taster's plate of three varieties of crostini, including serano ham, tomato caprese, and a semi-soft, mold-ripened goat cheese (bucheron) unlike any other we have tasted.

"salade d'endives au roquefort:" bitter belgian endive with apples, walnuts, crumbled roquefort cheese, and homemade toasted walnut vinaigrette. it was simultaneously sweet and tangy, with the bitterness of the endive complimented nicely by the sharp cheese and sweet apple.

we also enjoyed the quiche du jour, which was prepared with smoked bacon, potatoes, and green onions.

To compliment our meal, we indulged in a bottle of delicious red wine from the Saumur region of France (Saumur La Croix Verte, 2004). Wine Spectator awarded this vintage from the Cave du Saumur vineyard 87 points... We would have awarded them more!

All in all, it was a delightful afternoon meal, and we would highly recommend Monsieur Marcel's to anyone who enjoys fine French fare! We look forward to more culinary adventures "on the road," and will keep you updated on our travels!