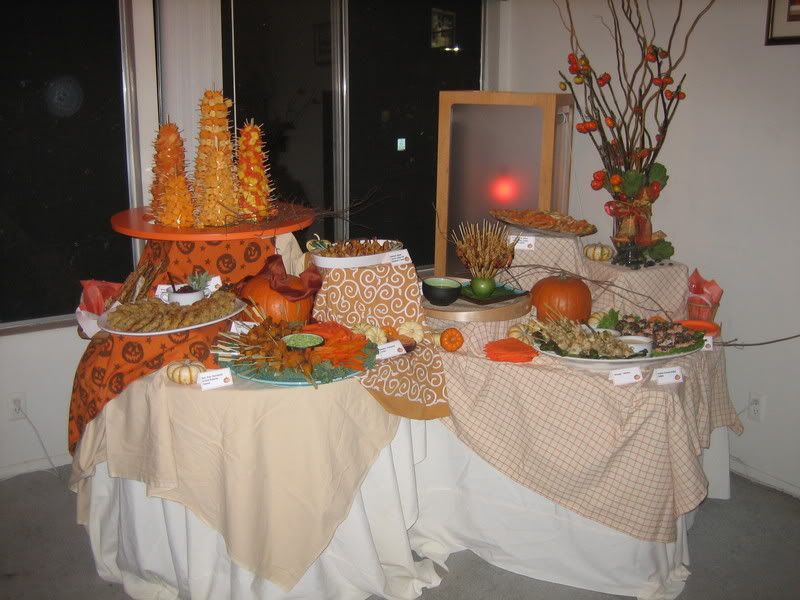 We continue our "celebration of orange" party coverage with an exploration of the orange savory snacks and hors d'eouvres prepared for the event.

Again, as with many of our events, the focal point of the savory buffet was split between a fresh flower arrangement-- in this case, pumpkin tree, fresh artichokes, Victorian ribbon, and curly willow shoots-- and our signature fruit and cheese "forest." For the purposes of this event, the fruit and cheese "trees" were created using foods in muted orange, including cantaloupe, papaya, mango, cheddar, English cheddar with caramelized shallots, and gouda cheeses.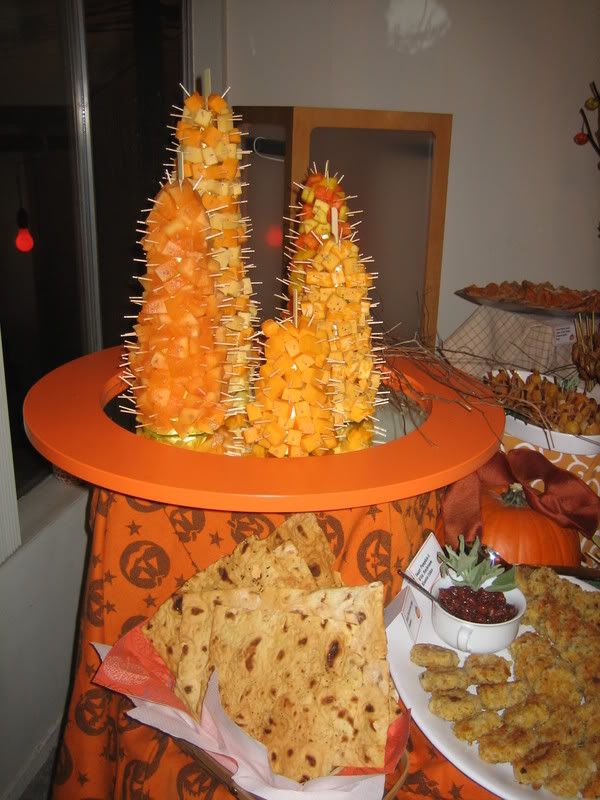 The menu for the party was quite diverse, drawing upon seasonal ingredients and Asian influences. And of course, all the food was orange in color, taste, or theme!




Grilled shrimp marinated with apricots and yellow curry (pictured above) were served with a curry-infused apricot marmalade. Skewered "orange chicken" with an orange-vinegar oil and sesame crusted salmon were served with a tangy tangerine yogurt aoili.

Wild mushroom and sugar pumpkin risotto cakes were paired with a dried cherry, pine nut, and sage compote (pictured below). Also served was a honey wheat pizza topped with sweet potato roasted with fresh sage, green apple, fresh asiago cheese, and roasted garlic. The earthy flavors of mushrooms, pumpkin, sweet potato and roasted garlic were complimented nicely by the tartness of the dried cherries and green apples.




Additional menu items included a trio of Japanese vegetables (pictured below), including Japanese marinated carrots, orange bell peppers served with an edamame-wasabi dip, and miso-marinated grilled kabocha squash.




Perhaps the biggest surprise for most party guests was the item pictured below. We infused dried apricots with white wine and fresh rosemary, and stuffed them with mild gorgonzola cheese and hickory-smoked bacon. The combination of the sweet apricots, smoky bacon, and pungent cheese were a crowd pleaser, described by one guest as "unforgettable."




Scattered about the room, on various "cafe tables" and seating areas were festive orange pumpkin bowls filled with freshly toasted and caramelized sweet and spicy pumpkin seeds, as well as sweet potato chips dusted with sea salt and cracked black pepper (pictured below).




Complimenting the food, pumpkin spice martinis were served. This martinis were prepared with a pumpkin, cinnamon, and vanilla infused vodka cooked up in the orenji catering test kitchens. They added a festive and sophisticated feel to a thoroughly enjoyable evening for the party guests!

The complete menu served at the "celebration of orange" party can be viewed here:

http://www.box.net/public/dyud29m2zr

Thank you to our friends, clients, and fans for your continued support. We look forward to contributing to your next party or event!