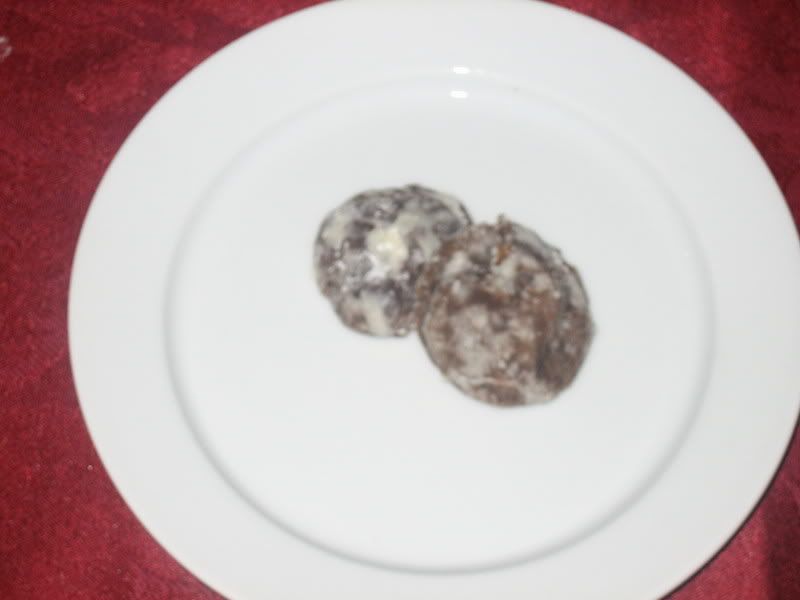 We will showcase two cookies today-- days 5 and 6 of the 34 cookies of Christmas-- as we took yesterday, Christmas Day, off to be with our families.

The cookies we will focus on today share a common "secret": a gooey middle, compliments of a hidden piece of candy baked in the center of the cookie. The cookies on the right are filled with a milk chocolate and caramel candy, surrounded by a dense bittersweet chocolate dough, and rolled in confectioner's sugar prior to baking for a powdery visual contrast. When you bite into these cookies, the caramel stretches melts in your mouth! This cookie has been a "work in progress," with us tinkering with the recipe each year to get just the perfect consistency of dough-- firm enough to prevent the caramel from erupting from inside the cookie, and soft enough to remain chewy. While we feel that we got it right this year, we haven't yet named it... any suggestions?


Our second cookie also has a secret-- a "peanut butter secret" (from which the cookie gets its name). This cookie starts with a buttery, flaky dough packed with brown sugar and peanut butter. Then we carefully mold a small portion of dough around a miniature peanut butter cup candy with milk chocolate, bake until a beautiful golden brown, and drizzle with melted Belgian bittersweet chocolate. This is the ultimate cookie for any peanut butter lover, and is a huge favorite among family, friends, and clients alike!

We hope you had a beautiful holiday, just as we did here with our families... and continue to wish our readers, friends, clients, and supporters all the best for 2007.