On the twelfth day of Christmas, orenji catering made for me...

Alas, dear readers, we have come to the end of our "countdown" of the twelve treats of Christmas 2008. Of course, it should come as no surprise that our number one treat prepared this holiday season was cookies... Thirty-six varieties of cookies, each hand-crafted and assembled to create a wonderfully diverse sampling of flavors, colors, and textures.

We highlighted approximately thirty varieties last year on comparing apples and orenji-- cookies with the flavors of lavender, espresso, apricot, maple, hazelnut, orange, peanut, coconut, tropical fruits, key lime, anise, fig... the list goes on and on. And we are happy to report that all of those cookies made an appearance in this year's line-up as well. Of course, there were also a few notable additions.

The "new" cookie we received the most response from this year was a brown sugar and sesame cookie-- flat, crisp, and full of flavor, these delightful discs were coated in toasted white sesame seeds, as well as the deeper flavored Japanese black sesame seeds. They were both striking in appearance and delicious!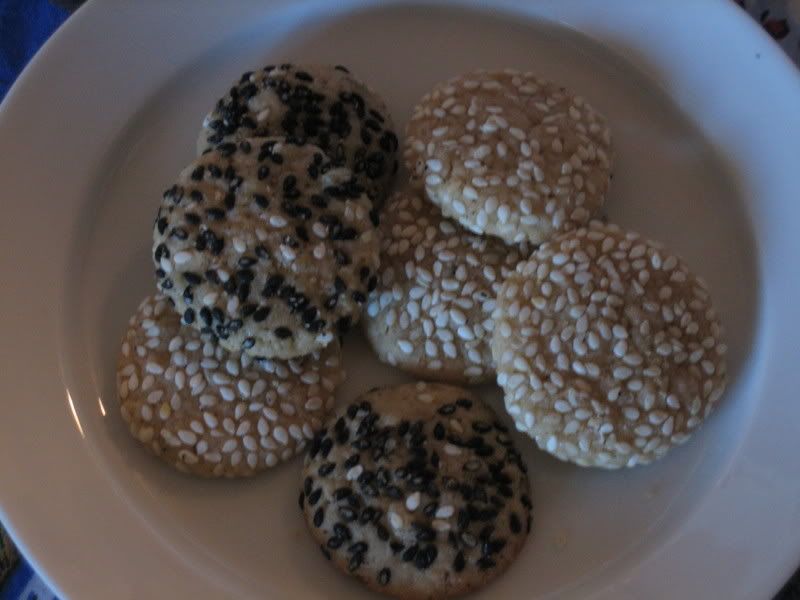 Another addition to our cookie selection this year was a butter cookie flavored with eggnog, freshly ground nutmeg, and rum. These eggnog cookies were extruded through the cookie press into fun shapes, sprinkled with yellow and red sanding sugar, and drizzled with fine Belgian white chocolate. Crisp and flavorful, the colors brightened up our trays and boxes of assorted cookies!
Our
cappuccino
flat cookies got a "make-over" this year, with colorful discs adorning their bittersweet and white chocolate-covered facades.
Our packaging ranged from simple white boxes with red or orange ribbon, to more fanciful gable boxes tied with blue and chocolate-brown satin ribbon, decorated with an antiqued sled and votive candle-- perfect for those long winter nights!