As our faithful readers know, here at
orenji
catering, we like cookies... but some cookies are more special than others.
Take for example, our duet of
biscotti
-- the seventh treat of Christmas 2007. The name
biscotti
comes from the Italian, translated as "twice baked." And both of our pair are true
biscotti
in that sense-- they are baked as loaves, cooled, sliced, and than baked again to give them their traditional crisp and dry texture-- perfect for dipping in coffee (or mulled wine we are told by one of our clients!) Not too sweet, these are the perfect snack, dessert, or breakfast for the on-the-go foodie.
The first
biscotti
in our "duet" is a brown-sugar, pine nut, and pistachio
biscotti
. We have been making these buttery cookies for many years, yet they remain one of our favorites. Loaded with toasted pine nuts and freshly shelled pistachios, flavor bursts from every bite. We accent the deep earthy flavors with the sweetness of fine Belgian white chocolate-- delicious and beautiful!
The second of our
biscotti
is a double chocolate, dried cherry, and toasted hazelnut
biscotti
. Crispy and deep in
chocolaty
flavor, these cookies are sure crowd
pleasers
. The sweetness of the cherries, and the toasted nuttiness of the hazelnuts make the flavors burst in your mouth. Drizzled with fine milk and bittersweet Belgian chocolate, these cookies both look and taste like a work of art!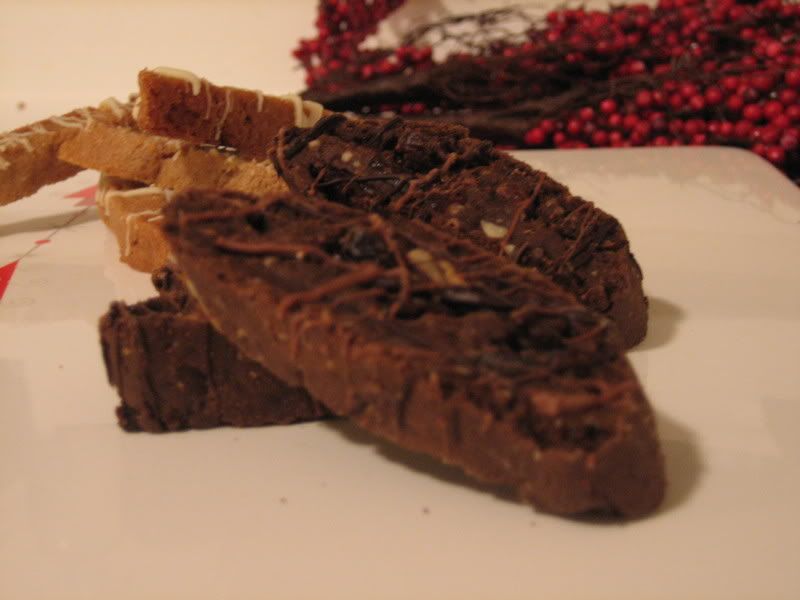 This year we offered our
biscotti
separately (as a "duet"), and also as a component of our thirty-six varieties of holiday cookies. Based upon the feedback we received, we anticipate 2008 being a good year for
biscotti
!
But let's not rush to 2008 before we've finished the twelve treats of 2007. What could be next? Check back tomorrow to find out!