Our review of
elegant
Easter entertaining continues, focusing on dessert and after-dinner snacks.
Following plated dessert (detailed below), guests relaxed, enjoyed the beautiful California weather, as the event space was converted to a "martini lounge..." Festive Easter-inspired martinis were served, along with snack foods and miniature cakes (pictured right).
Cakes included hazelnut
genoise
with F
rangelico
, and French cashew-praline
buttercream
. These deliciously light, yet rich, cakes were decorated with caramelized sugar "glass."
Rich chocolate
genoise
with whipped milk chocolate
ganache
and fresh raspberries were decorated with hand-modeled bittersweet chocolate roses.
Chocolate carrot cakes, with candied carrot completed the selection of
miniature
cakes.
Also served was a refreshing selection of grilled vegetables and hummus, fresh cheeses, and freshly baked breads and toasted
flatbreads
.

Our plated dessert of the evening was a delicious combination of textures and flavors:
warm bittersweet chocolate carrot cake was topped with malt ice cream, and accompanied by
a smooth and creamy vanilla-saffron
crème
anglaise
.
Verjus
poached white peaches and candied fennel and carrots added textural and acidic components, perfectly complementing the bitterness of the cake and sweetness of the ice cream.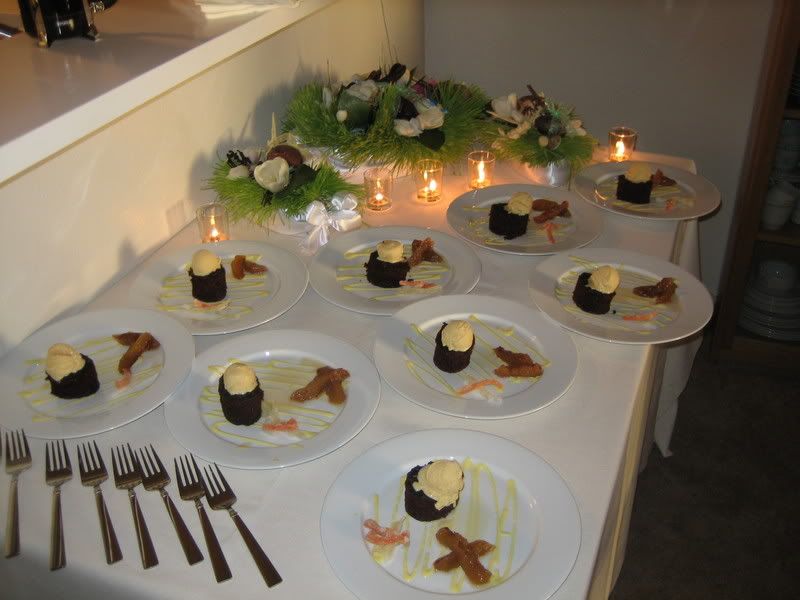 Our guests enjoyed a relaxing evening, from
hors
d'eouvres
to four plated courses, after dinner martinis, sweets, and snacks. All in all, a wonderful, successful event!
But what else did
orenji
get up to during Easter? The hand-made chocolates, sweets, and bread products will be reviewed in the coming days. Be sure to keep checking back!