Here at
orenji
, we love chocolate. More than that, we love creating with chocolate... and Easter 2008 provided the perfect opportunity! In celebration of the festive spring holiday, we set out to create some delicious hand-poured chocolate truffle eggs. In the end, we were quite pleased with the results!
At the right, you see two of our
varieties
of eggs-- milk chocolate eggs filled with two peanut butter fillings. The first filling was smooth and deep in flavor, combining the finest Belgian milk chocolate with creamy organic peanut butter. The second filling, was denser in texture, and richer in peanut butter flavor. Taken together, the eggs were an explosion of flavor!
The bittersweet chocolate egg pictured contained a smooth and creamy chocolate-caramel truffle filling-- the finest Belgian milk chocolate combined with our own hand-crafted sea salt caramel! Deep and rich.

Joining them in the selection pictured at left were bittersweet chocolate and cappuccino-truffle filled eggs. Dark, rich espresso joined smooth bittersweet Belgian chocolate to create a delicious truffle filling. Surrounded by bittersweet chocolate, and drizzled with fine white chocolate, these eggs were a coffee lover's dream!
Beautifully packaged in spring-colored "tulip" cups, these Easter treats made the perfect addition to any Easter basket!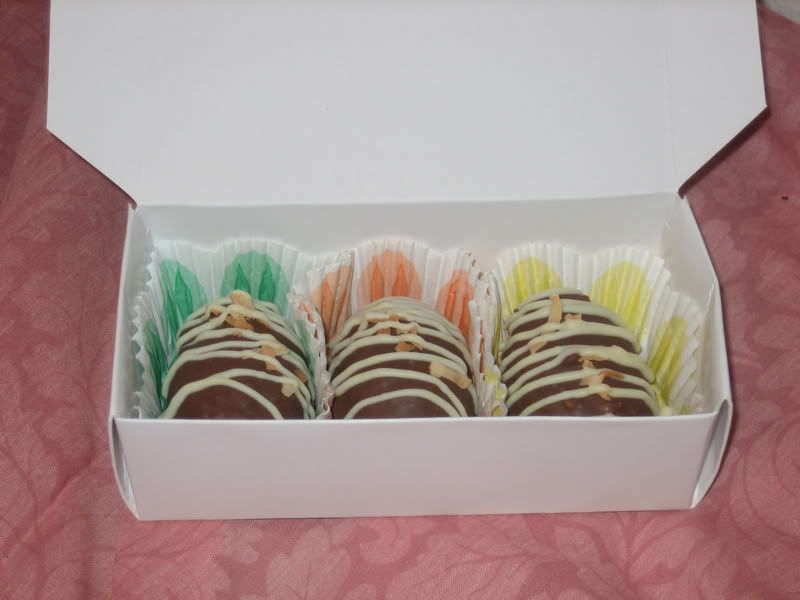 The last of our varieties of hand-poured Easter eggs were filled with a toasted coconut and caramel filling. Chewy, and delightfully textured (thanks to the crunchy freshly toasted coconut), the filling was the perfect complement to the smooth Belgian chocolate
enrobing
it!
Just one more day of Easter coverage! Make sure you check back tomorrow...