We recently enjoyed the
opportunity
to provide sweets and treats for a friend and client's sister's baby shower, in the theme of an afternoon tea. The foods provided will be reviewed over the next few posts, but today we turn our attention to a trio of deliciously moist scones. The first type of scone we prepared (pictured above) was rich with Tahitian vanilla and loaded with moist and juicy apricots. Not too sweet-- as any good scone should be-- we added a drizzle of confectioners' icing to bring out the flavor of the apricots. These are perhaps the best scones we have ever tasted, and we hope to have many opportunities in the future to share them with those we bake for...
Our second of three scones was a delicious dried cranberry and bittersweet chocolate scone. A bit denser and more crumbly than the apricot scones, these were deeper in flavor due both to a base of brown sugar, as well as the smooth bitter flavor of the finest
Callebaut
Belgian bittersweet chocolate. The sweetness of the dough, the tartness of the cranberries, and the bitterness of the chocolate combined to create a pleasing symphony of flavors... these are perfect with tea or coffee!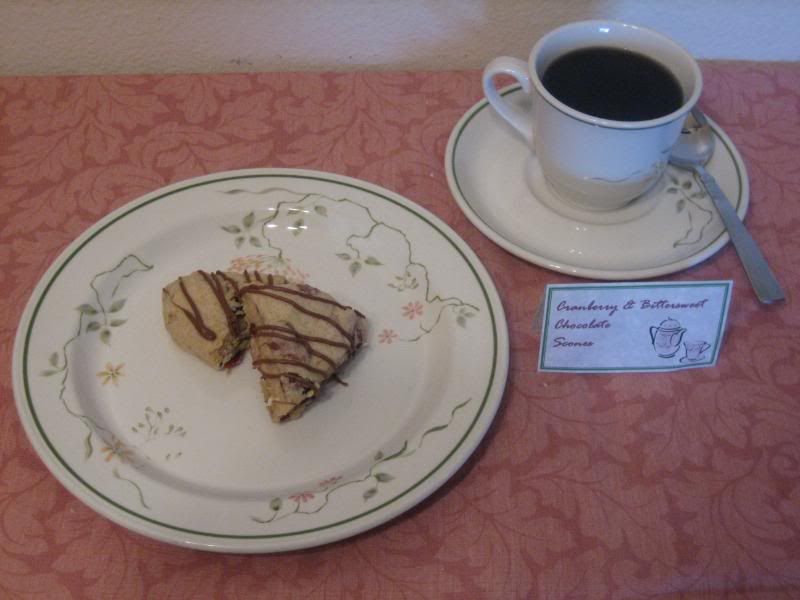 Our last of the trio of scones were perhaps the most "traditional." Black currants and cream were the base of these moist and crumbly scones-- a hint of Tahitian vanilla adding undercurrents of flavor to delight the palate. Sprinkled with crunchy
demerara
sugar (a large-
crystalled
brown sugar made from natural sugar cane), these were as pretty as delicious!
All in all, we were pleased with our collections of tea time scones. Each variety (although we would definitely recommend the apricot!) is available on our 2009 Easter Pricing Guide-- perfect for your Easter brunch.

Keep checking back for review of other delectable tea time treats we created for the baby shower. You might see something you like!