The review of our recently created Chef's Cheese Degustation continues with a focus on our third course: a deconstructed pizza margherita. You may recall from earlier posts that the goal of our degustation was to highlight artisan cheeses from around the world by making them the focal point of each course. This course was no exception.

In considering how to best showcase traditional Italian cheeses-- mozzarella di bufala (Campana) and Parmigiano-Reggiano, sini fulvi (Parma)-- we opted for a traditional preparation: pizza margherita... with a non-traditional presentation.

We first deconstructed the flavors of the pizza-- cheese, tomato, basil, thyme, wheat-- and then the textures-- soft, crisp, chewy. We set out to concentrate these flavors and textures into a series of components that would be evocative of a complete pizza.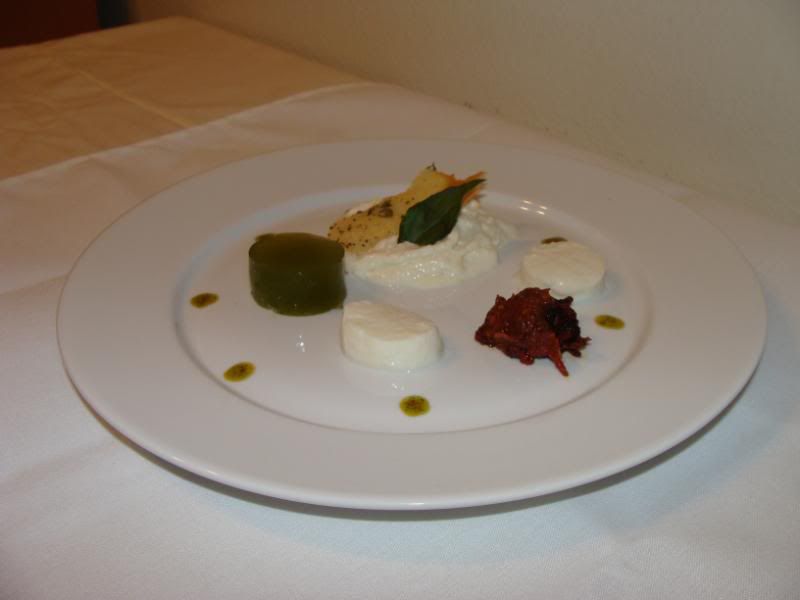 Starting at the top of plate, a light and airy foam made from the essence of the Parmigiano-Reggiano cheese was topped with a crisp thyme-infused tuile. Moving clockwise around the plate, medalions of mozzarella di bufala tartare, deeply flavored confit of oven roasted tomatoes, and a cool basil gelée highlighted the various flavors of the constructed dish. A drizzle of fresh basil oil added herbal high notes and richness.

Accompanying the deconstructed pizza we served a rosé-- Châteaux Haut Bailly, Bordeaux Rosé de Haut-Bailly (Bordeaux, France, 2006), specifically. Rich and full-bodied, the wine was dry with a lingering aftertaste and a fresh, vibrant palate impression of raspberries and blackberries. The crisp acidity perfectly balanced the richness of the cheeses, creating a memorable pairing!

In our next post, we take on "soup and sandwich," orenji-style! See you then...