We keep ourselves pretty busy, here at
orenji
. As our faithful readers know, the holidays always get a bit busier, but the kitchen lights keep burning (and the oven definitely stays on) even between holidays! That was the case of these cheesecakes-- the perfect dessert for any
occasion
, or no occasion at all!
The first of our two cheesecakes is a "black forest cheesecake"-- some might say, a black forest cake,
re-imagined
... We started with a dark chocolate cookie crumb crust, on which we placed hand-candied
Morello
cherries and a smooth and creamy white chocolate cheesecake layer. Atop that, another cheesecake layer, this one thick with the smoothest and bitterest Belgian
Callebaut
chocolate-- the finest chocolate produced, in our humble opinion (and we've tried them all!) To incorporate the layers, we gently swirled them together, creating a beautiful cross-sectional design once cut.
A thick layer of bittersweet chocolate
ganache
infused with kirsch, more
Morello
cherries, and just a drizzle of smooth and creamy Belgian white chocolate finished this fantastic cheesecake!
Our second cheesecake is quite different from the first... a recipe we created years ago while living on the East coast, reminiscent of our time in Japan. We start (again) with a bittersweet chocolate cookie crust, atop which is spread a creamy Belgian white chocolate and cardamom cheesecake layer. Smooth and melting, the chocolate and the spice of the cardamom are the perfect foundation for a rich (dare we say, "mossy") layer of of Japanese
matcha
green tea.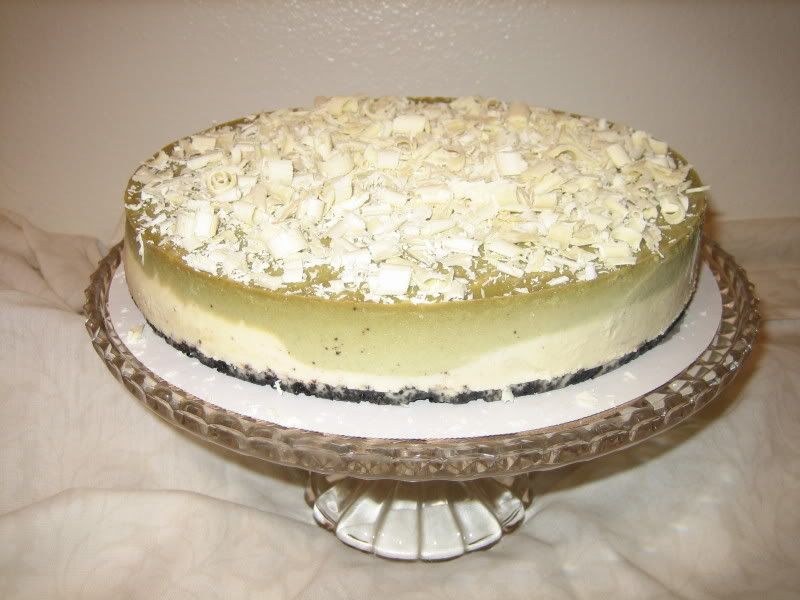 The sweet and leafy tea flavors are mellowed by the white chocolate and cardamom spice, and finished with white chocolate curls-- providing both visual and textural contrast. All in all, this is perhaps our favorite cheesecake, and one for which we receive frequent orders!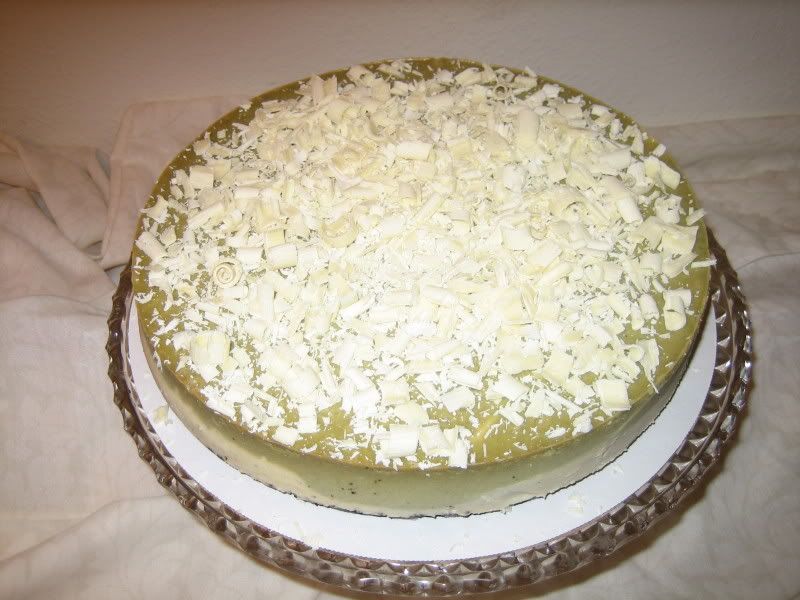 So, there you have it... a tale of two
cheescakes
(although in this case, "it was the best of times, it was the best of times..."). Any time can be made better with a spectacular dessert from
orenji
!