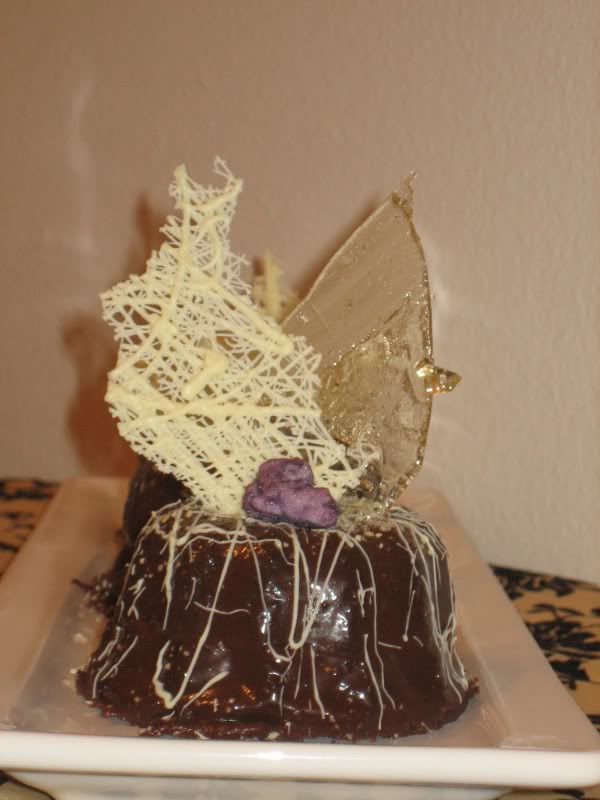 We were recently commissioned to create individual cakes for a birthday celebration-- the guest of honor was both a chocolate and a fine coffee lover... so we thought the perfect match would be bittersweet chocolate cake with an Italian espresso mousse!

The cake we created was dense, made with Belgian Callebaut Brut Cocoa powder (the most bitter you can get!), and infused with Godiva White Chocolate liqueur. Moist and rich, we filled our individual cakes with a smooth and creamy white chocolate and Italian espresso mousse. The sweetness of the white chocolate was perfectly balanced by the bitter espresso and a hint of earthy Tahitian vanilla.





We opted to cover the individual cakes with a smooth Bittersweet chocolate ganache, sprinkled with cashew praline "dust." The ground cashew praline added both a textural and visual contrast to the velvety ganache and drizzled white chocolate.

To garnish, we utilized caramelized sugar "glass shards" and white chocolate lattice, as well as delightfully vibrant hand-candied violets. Now that's a dessert perfect for a celebration!