We recently had the honor of creating wedding favours for two dear friends who married in a spectacular fairytale wedding in southern Spain. We created four delicious confections in our kitchens in California, and then assembled the favours in Spain! While we have shipping items to four continents, it was the first time we have delivered our creations to another country in person! What a wonderful year it has been here at orenji!

The favour boxes were filled with four hand-crafted confections, and adorned with chocolate brown ribbon, printed tags, a label on the back, and assorted fall foliage in the colors of the bridal party. The confections included:
1) Pomegranate and elderflower fruit jelly-- Sugary and chewy on the outside, soft and melting in the middle, these natural "gummies" were delicately flavored with pomegranate and elderflower, creating a magical contrast of flavor!
2) Smooth Belgian chocolate infused with garam masala-- a sweet and spicy Indian spice mixture-- was molded in the shape of an autumn acorn, and hand brushed with 24 karat edible gold.
3) A light and fluffy hand-crafted marshmallow, dusted with confectioners' sugar, and infused with the subtle floral scent of lavender-- a delicious taste to experience!
4) Perhaps our favorite, hand-crafted caramel flavored with sea salt smoked over Welsh oak, and enrobed in the finest Belgian bittersweet chocolate. The deepness of the chocolate paired perfectly with the smooth, buttery caramels, with a hint a salt awakening the tastebuds!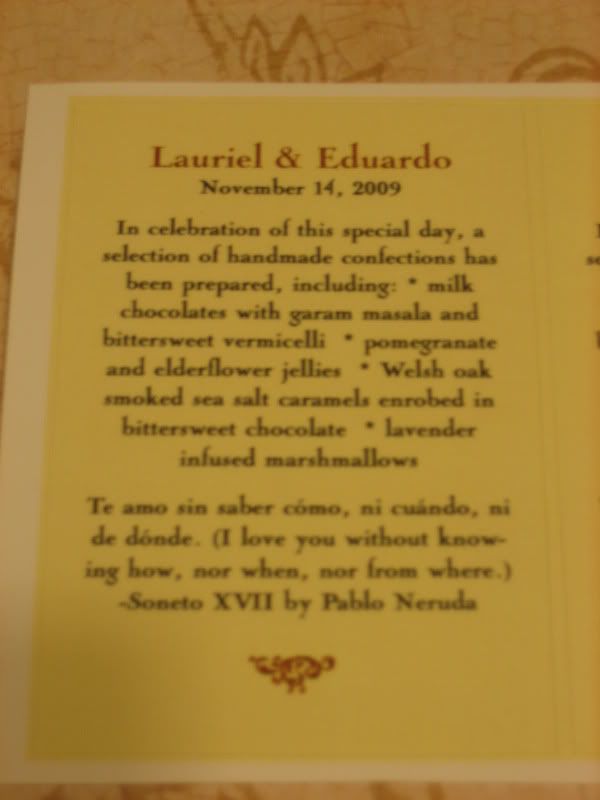 Altogether, we were extremely proud to have been asked to contribute to this magical wedding day, and pleased with the result of our work! And if you're wondering, we are always available for international events!

(a glimpse of the wedding site)
As the autumn and winter holidays approach, be sure to check back frequently for pricing guides and sneak peaks at holiday treats!