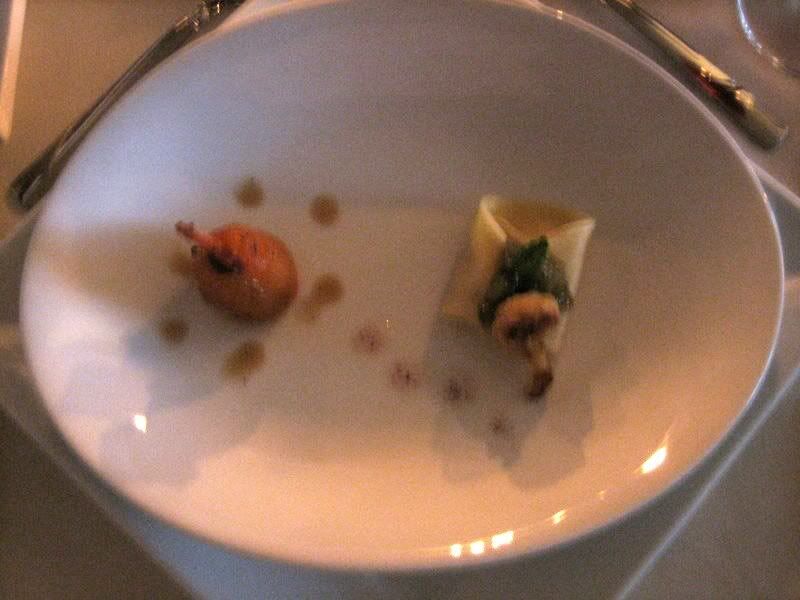 We continue our review of the orenji catering Thanksgiving feast with a duet of amuses bouche. As we have previously posted, amuse bouche, translated from the French, literally means to tickle the mouth. Amuses bouche are prepared as bite-sized flavorful morsels to prepare the taste buds for the culinary wonders which await.

For our meal, we decided upon a duet of amuses bouche-- one hot and one cold-- highlighting autumn flavors using locally grown produce.

On the left, we began with a delightful fresh apricot, which we oven dried to concentrate the flavors. We then poached the dried fruit with fresh rosemary to soften it, and infuse it with the woody, herbal flavor. The apricots were stuffed with crisp applewood smoked bacon and pungent gorgonzola cheese, broiled, and served with a reduction of the poaching liquid. Rich and flavorful, it was the perfect bite with which to start a meal.




On the right, we prepared a cold amuse bouche. This was lighter in flavor, and cooler on the tongue, to cut through the heavy creaminess of the gorgonzola cheese. We started with freshly grown cauliflower, which we oven-roasted until rich and brown, the natural sugars caramelized. After pureeing the vegetable, we encased it in freshly rolled pasta, creating a delicious tortellini. Cooked, and chilled, the tortellini was served with a fresh pear and mint gelee, a bit of roasted cauliflower, and finished with cardamom oil. Deep caramelized cauliflower was the perfect accompaniment to light and sweet pear and mint, which easily cleansed the palate for the next course.




We paired our amuses bouche with a delightfully light sparkling rosé, created from pinot noir grapes. It was light and refreshing, while providing sufficient flavor and body to compliment the bold flavors of the amuses.

And what is the next course, you might ask? Well, you'll have to check back tomorrow, as we continue our review of the orenji catering Thanksgiving feast! Good bye for now...