Our trip down culinary memory lane continues with a review of course 5 of our recently prepared 11 course chef's degustation menu. As we have mentioned in previous posts, our culinary aesthetic focuses on fresh ingredients, prepared simply to highlight their clean, unadulterated flavors through a variety of cooking techniques. We prefer locally grown organic produce, which this current course highlighted-- locally grown baby artichokes. To best showcase these tender and delicious morsels, we presented the artichokes with three different preparations... artichokes, three ways!
The first preparation was a hand-rolled artichoke ravioli. The filling for the ravioli was inspired by the classic artichoke stew, "barigoule," in which fresh artichokes are slow braised with seasonal vegetables, herbs, and a touch of vinegar. The herb-infused artichokes were chopped, seasoned, and used to fill our hand rolled ravioli. The warm ravioli was placed on top of a seasoned fava bean puree, to provide an earthy undertone to the acidic overtones of the dish. Perched atop the ravioli were glazed red and white baby pearl onions and root vegetables. A warm barigoule vinaigrette, reduced from the braising liquid, was drizzled over the ravioli to finish this dish.
Our second artichoke preparation began with a red-wine braised baby artichoke heart, which was subsequently fire-grilled. The smokiness of the fire mingled with the caramelized sugar created from slow-roasting, to create a uniquely deep and smooth taste which complemented the sweetness of the fresh vegetable. The artichoke heart sat atop an edamame (green soy bean) and artichoke pancake, which was nestled in a dollop of sweet fresh white creamed corn. The white corn-- also locally produced-- was grated and juiced, with the natural starch in the corn thickening during a slow-cook over a low frame to create a deliciously sweet base for this preparation.
Our last preparation is not an artichoke at all, at least in the traditional sense of the word. It began with a Jerusalem artichoke-- also known as the sunchoke-- which was grown locally by an organic producer. Amusingly enough, the Jerusalem artichoke is neither from Jerusalem, nor an artichoke. Rather it is a tuberous vegetable closely related to the sunflower. By including this faux-artichoke in our "artichokes, three ways" we attempted to inject some culinary humor into this course (much like blood orange gelee "ice cubes" or Israeli pearl couscous "risotto...). What can we say-- chefs are funny people!
The sunchokes were sliced thin and layered with grated Taleggio cheese-- an Italian cow's milk cheese known for its pungent smell, but mild salty flavor. The gratin was infused with fresh sage, and broiled until warm and melted. We served the sunchoke-Taleggio gratin with a chestnut gastrique, marrying the earthiness of the tuber and cheese with the sweetness and acidity of chestnuts and balsamic vinegar. (A gastrique is a thick reduction of caramelized sugar, vinegar, and generally some form of fruit-- in this case, we used chestnuts!)

Paired with our three artichokes was a delightfully crisp and refreshing sparkling red wine from Australia (Lengs & Cooter, Sparkling Red Wine, McLaren Vale). The earthy, yet crisp bubbly wine complimented the natural flavors of corn, artichokes, and chestnut beautifully, and was only enhanced by the acidity of the barigoule vinaigrette.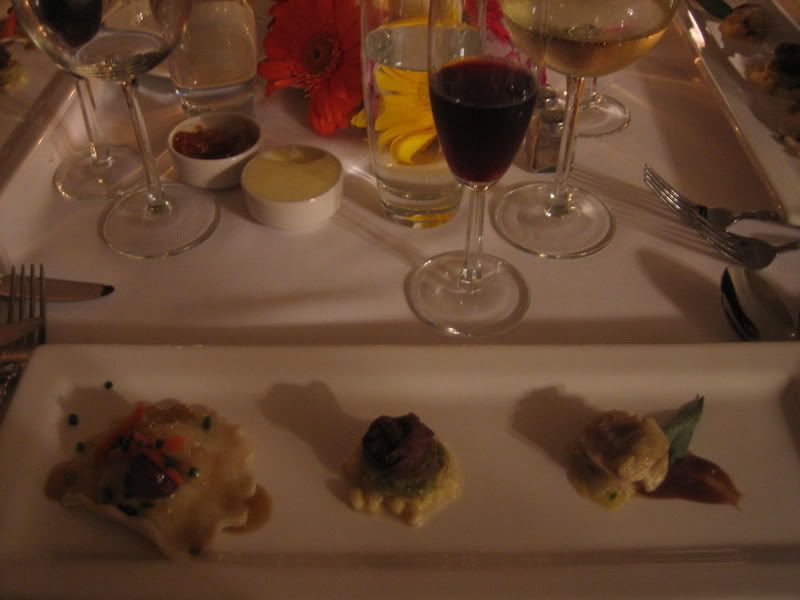 Up next, the poultry course. Do be sure to check back and join us as we continue our culinary journey! Until then, get to your local farmer's market and try something fresh!