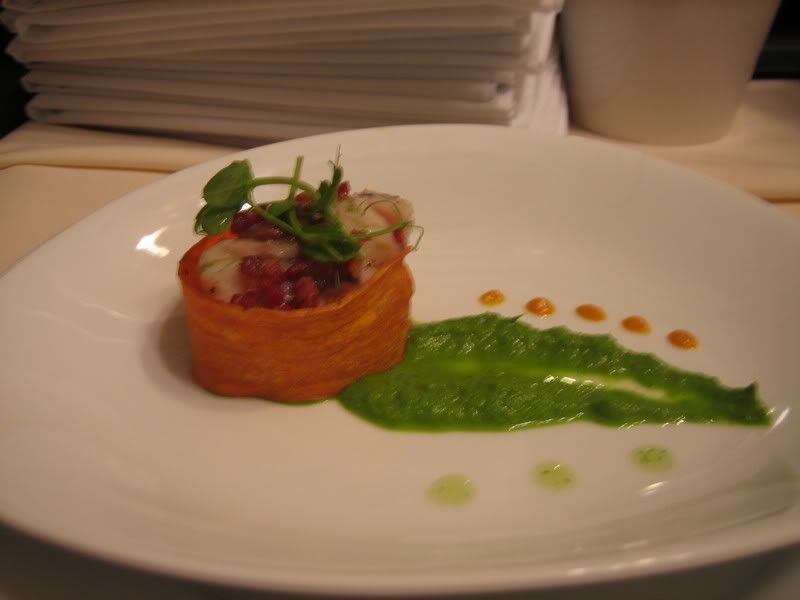 After a slight delay (due to technical difficulties here at the orenji catering offices), we continue our culinary tour of the recent chef's degustation and wine tasting we prepared for a friend and client.
Following the flight of chilled soups reviewed in our last post was a traditional "fish course" with an orenji twist! A deliciously light fillet of wild-caught freshwater black cod was pan roasted and served with crisped skin. The delicate white fish sat upon a creamy and flavorful Israeli pearl couscous "risotto" flavored with saffron and tarragon. We call this particular couscous a "risotto" as it was prepared using the method traditionally reserved for arborio rice. The Israeli pearl couscous-- larger and meatier than it's traditional pencil-point sized cousin-- responds to this preparation much like the arborio rice does, creating a smooth and creamy porridge-like "risotto." The flavors of the deep saffron and vibrant tarragon-- as well as some smokey crisped pancetta-- complemented the delicate fish beautifully.
The pan-roasted bass and "risotto" were topped with pancetta and fresh pea shoots as garnish, drizzled with tarragon oil, and wrapped within a crisp sweet potato ring. The plate was decorated with a fresh pea shoot coulis, highlighting the fresh, crisp, clean taste of pea shoots, as well as a sweet potato-saffron custard, and fresh tarragon oil.
Complimenting the fish course was a taste of own of our favorite chardonnays- Cambria Vintner's "Katherine's Vineyard" Chardonnay, 2005, California. The smooth oakiness of the wine, with just a touch of acid, cut through the earthy saffron and complimented the herb-infused oils perfectly. We couldn't have asked for a better pairing!
Continuing our philosophy of highlighting seasonal fresh ingredients, the next course focused on one vegetable, prepared three ways. Check back to see which vegetable we used!