We continue our review of our recently prepared chef's degustation menu with a discussion of the poultry course that followed our presentation of a trio of artichokes. As you may recall, degustation menus present many small bites of various types of food and flavors, served in succession. Each course builds upon the last, and this duck preparation was no exception. Strong in flavor, the duck was a perfect course to precede a palate-cleansing intermezzo, and the "entree" of the degustation, oven braised veal breast... but more on those menu items in later posts!

The duck served started with a wild duck breast which was seasoning, shaped into a roulade, and wrapped in steamed Swiss chard leaves. The duck was prepared by steaming it in Earl Gray tea, which infused it with a deep, herbal flavor and complimented the inherent gamy flavor of the meat. As you can see in the picture at the right, the duck breast was served medium rare, sliced into thin cross-sections of the roulade, and served upon two accompanying fresh ingredients. The first complimentary fresh ingredient the duck was accompanied by was a celeriac mash-- the bulb of the celery root, simmered gently in cream until tender, seasoned, and mashed to creamy smoothness. The second accompaniment was a spring ragout of freshly harvested fiddlehead ferns and local morel mushrooms. The freshness of the greens, coupled with the earthy "umami" of the mushrooms, along with the creamy celeriac, nicely framed the herbal and gamy flavors of the duck roulade. (Note: "umami" is the Japanese word for "savory" or "meaty" and is considered by chefs to be one of the five basic flavors that the tongue can distinguish. Meats, mushrooms, and some earthy cheeses are perfect examples of "umami").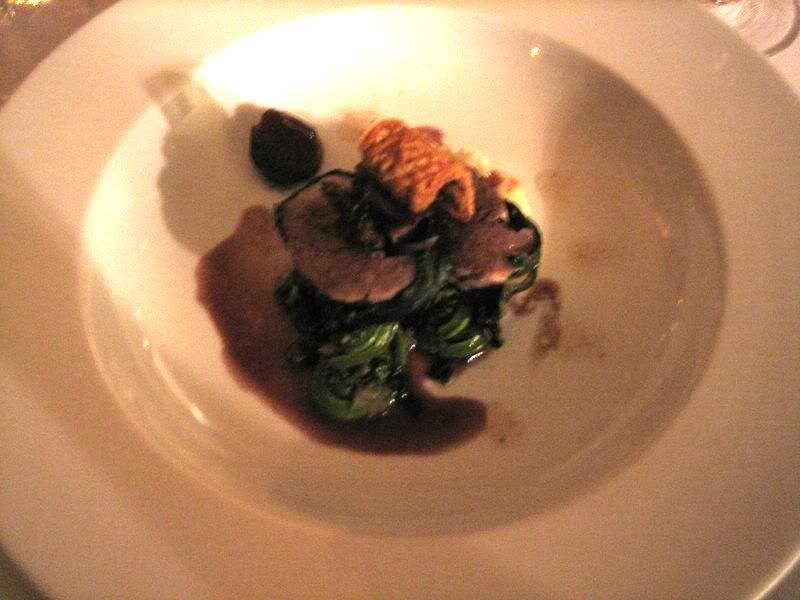 The skin and fat from the duck breast was salted and rendered to create a modified "crackling" which was served atop the meat, adding a delicious salty and texturally crisp antagonist to the smooth and tender meat and accompaniments.

Topping the duck was a pan reduction infused with roasted shallots, reduced from a red-wine infused duck stock. Both smooth and somewhat acidic, with the sweetness of caramelized shallots, the sauce provided a silky texture which tied the dish together. Further flavor was added with the presentation of cardamom oil to frame the plate.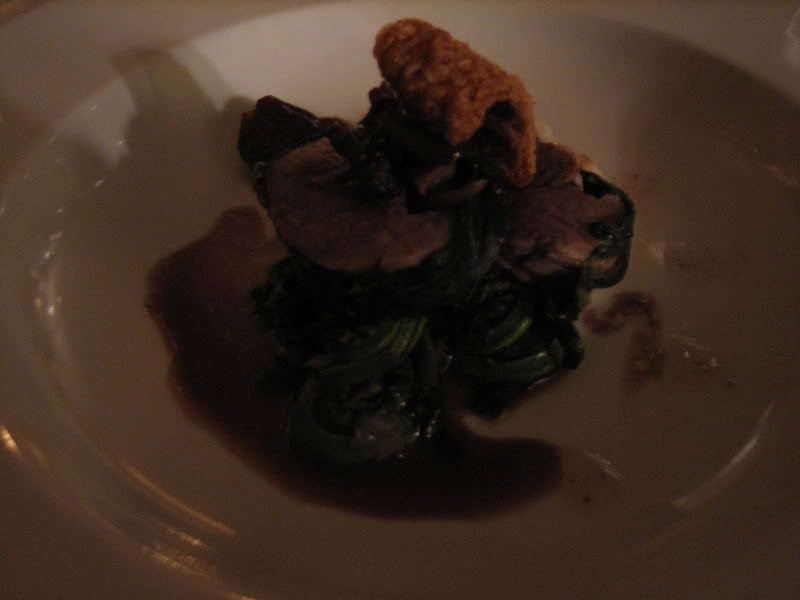 This complicated presentation of duck-- robust in flavor-- was complemented by another Australian wine selection-- Jacob's Creek Vineyard, Reserve Shiraz, 2004. The first still red wine of the evening, it set the stage for future offerings, including Cabernet Sauvignon, Bordeaux, and of course, a tasting of Ports. But you'll have to keep checking back to hear about those (and the foods they were paired with!)