We continue our culinary journey, recapping our recent chef's degustation and wine taste prepared in honor of a friend and client's birthday. Course three, a "flight" of chilled soups, came next, highlighting the fresh spring flavors of local produce in easy to drink "shots" of soup.
Three soups were prepared, chilled, garnished, and served on a satin ribbon. Each soup was meant to be tasted in sequence, starting at the left, and working to the right. A deliciously smooth, floral, and creamy Sancerre (Domaine Andre Vatan, Les Charmes, Sancerre, 2005) complimented the fresh vegetable flavors of the soups. Each of the three will be discussed, in order of tasting.

The first of the flight of three soups was an English pea soup. Delicate English peas were shelled, blanched, and pureed with vegetable stock and seasonings. Following straining and chilling, the soup was topped with fresh oil infused with essence of white truffle, and served with an oven crisp of Parmigiano Reggiano cheese. The color of the soup was a vibrant bright green, with the taste sweet and smooth-- the concentrated essence of light and fresh peas accentuated by the deep flavor of white truffles.
The second soup was a "gazpacho" of sorts. Like a traditional gazpacho, this uncooked soup started with fresh peeled and seeded tomatoes (golden heirloom tomatoes in this case), fresh vegetables, and herbs. The difference in this "recipe" was the additional of oven-roasted golden beets to the soup, to create a delicious depth to the soup. Topped with a syrup made of aged balsamic vinegar, and garnished with a peeled baby heirloom tomato, this soup was a delightful bridge between our first and third creations.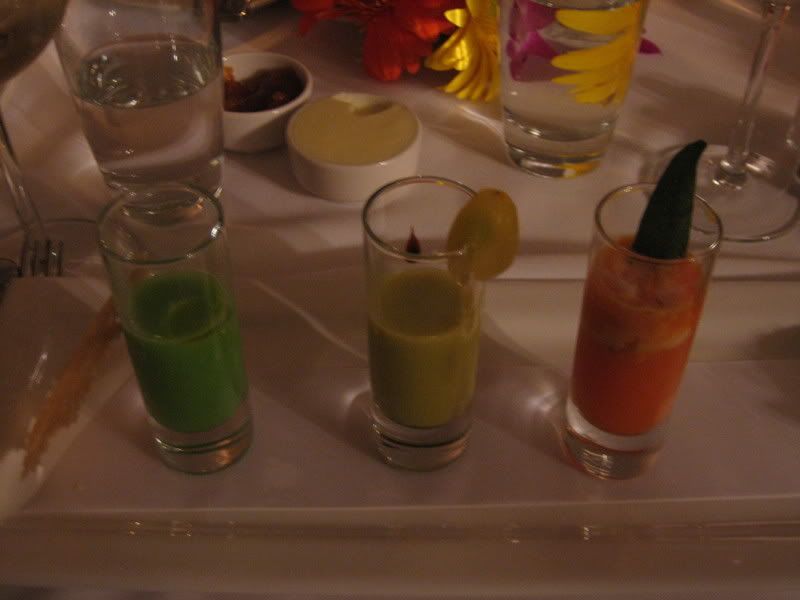 The third and final soup in our flight of chilled soups was made with pan-glazed baby carrots, pureed and thinned with vegetable stock, herbs, and seasonings. To finish this soup, we topped it with a crema infused with fresh ginger, and a blood orange gelee "ice cube" to lend a citrus tang to the soup. A frizzled green sage leaf complimented the sweet carrots, creamy ginger, and acidic citrus flavors perfectly.
All in all, the chilled soup course was a delicious experiment of concentrated vegetable flavors-- first sweet English peas, followed by pungent golden beets and tomatoes, and finishing with smooth sweet carrot. This course really summarizes nicely our approach to food-- fresh, clean flavors.
Up next in our culinary degustation journey, the fish course. Be sure to check back and see what we did with Black Cod!