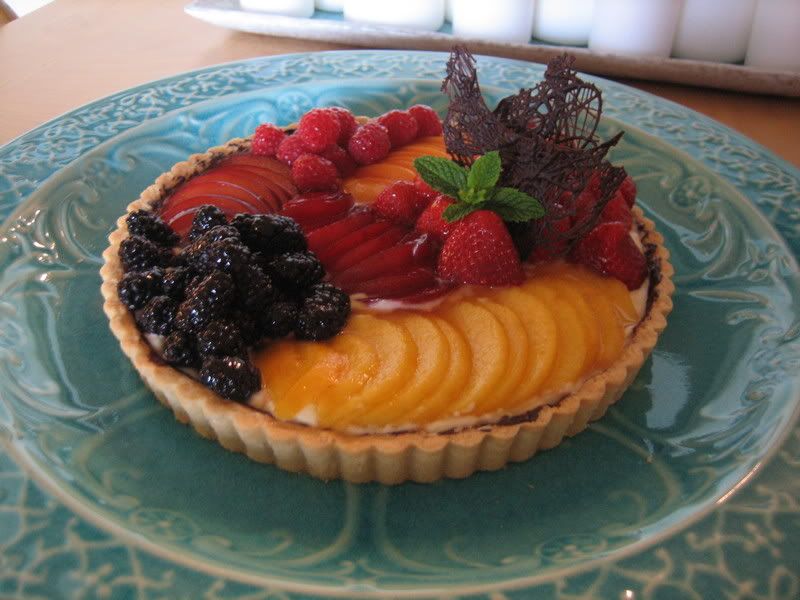 Our second dessert featured in the "trio of celebratory desserts" was created for a discerning client's birthday. We wanted to create something classic, with a fresh and modern twist... an 'orenji twist,' if you will!
Given the abundance of locally produced fresh fruit available right now, we headed down to the farmer's market to see what would catch our eye. There, we found beautiful blackberries, strawberries, and raspberries, as well as a plethora of stone fruits-- peaches, nectarines, plums, pluots, and apricots! Staring at the tables covered with produce, an idea started to take shape-- a tart covered with beautifully glazed ripe fruit...

So, we rushed back to our kitchen, and set to work... First, a simple sweetened pastry crust was baked, and while still warm, brushed with melted Belgian bittersweet chocolate to seal the texture and prevent the eventual filling from creating a soggy base. We then created a classic French pastry cream, infusing it with fresh young ginger and vanilla, to add our modern twist, and compliment the sweetness of the fruit. Once the pastry cream was chilled and lightened with some fresh whipped heavy cream, we covered the filling with our fruit-- blackberries, raspberries, strawberries, black plums, pluots, peaches, and apricots.
The fruit was then glazed with a light apricot glaze-- to prevent it from drying out and to give it a delightful glistening sheen. Mint fresh from the orenji catering herb garden, and chocolate lattice decoration dramatically finished the dessert.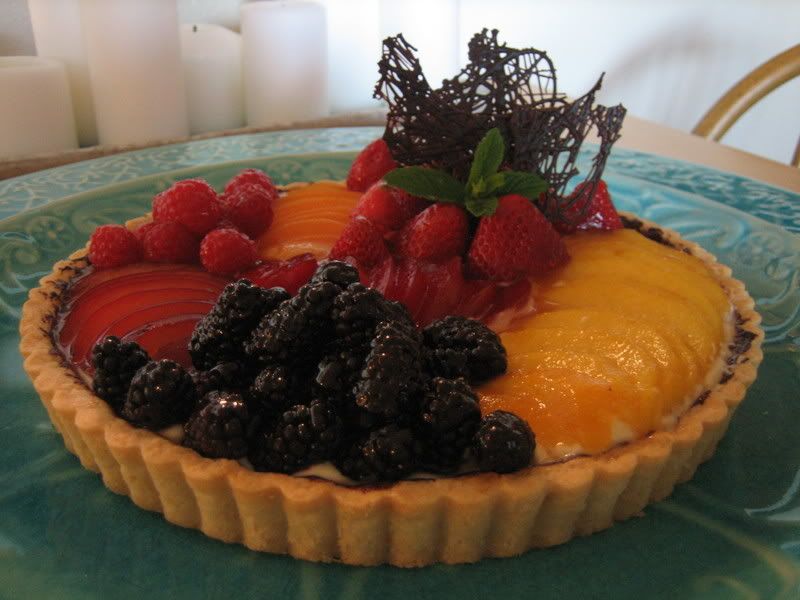 Fresh looking, and delicious tasting, this tart was the perfect birthday celebratory dessert. We wish that fruit like this was in season all year round! Then again, autumn, winter, and spring also provide many opportunities for fresh seasonal cooking... and we're always up to the challenge!
Stay tuned for part 3 of our "trio of celebratory desserts"-- a tropical cheesecake!