Our review of the 2008 Celebration of Orange-- an event in which all the food needed to be orange in flavor, color, or theme-- concludes with a look at the desserts we prepared...
We first turn our attention to individual cheesecakes, flavored with roasted pumpkin and bittersweet chocolate. These bite-sized morsels were rich and creamy, with the bitterness of the chocolate serving as a perfect compliment to the sweet pumpkin filling.

A pumpkin and milk chocolate poundcake provided a less rich, but equally as flavorful alternative for those guests looking for fall-themed flavors, without the calories!
Crispy and butter orange and pistachio shortbread with milk chocolate were a guest favorite.
White chocolate truffles infused with pumpkin spice provided a bite-sized and creamy explosion of flavor. We noticed more than one guest eating more than one of these confections!
Individual sweet potato
tartlets
with toasted marshmallows and pecans provided a bite of comfort food, while not overwhelming or cloying the palate. These
tartlets
combined the sweetness of the potato with toasted caramelized sugar of marshmallows. Toasted pecans added a textural contrast and sweet, nutty flavor.
Orenji's
famous caramel apples and pears were miniaturized for this event, using Lady apples and
Seckel
pears. Dipped in sweet cream and butter caramel, rolled in toasted cashews, and drizzled with smooth Belgian milk and white chocolates, these tiny fruits were guest favorites!
Miniature carrot cupcakes-- spiced with fresh nutmeg, cloves, and cinnamon-- and topped with smooth cream cheese icing and crunchy toasted coconut disappeared quickly. We could barely keep the buffet stocked, given the popularity of these little cupcakes!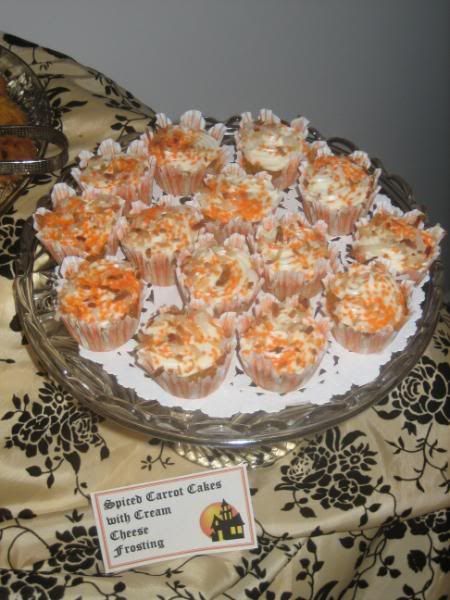 Orenji's
hand-candied orange peel completed the sweet offerings at the 2008 Celebration of Orange. We think, given the theme, it is the perfect way in which to end our review of the event!
We will next turn our attention to a gourmet pizza party we recently threw! And of course, review our Thanksgiving creations as we turn our attention to the Winter Holidays. It's an exciting time of year, and we thank you for making
Orenji
part of it!