For those of you who are long-time Orenji readers, you may recall the first "Celebration of Orange" we were involved in-- approximately two years ago. This party, hosted by a friend and client, celebrates the color orange. It also happens to be celebrated on Halloween. The challenge here is that all the food prepared needs to be orange in theme, flavor, or color. Of course, given our name, we were more than excited to again participate in the annual Celebration of Orange (or Celebration of Orenji, as we like to call it!)

We will be devoting three posts to the Celebration of Orange. Today's post focuses on the savory foods prepared for the party. Tomorrow's post focuses on "setting the stage" for the party-- that is, how we decorated. And the last post will focus on "sweet conclusions," or the desserts that prepared.

As preparing foods that are all orange can be quite challenging, we started with the basics- orange vegetables. First, we pickled carrots in a Japanese farmhouse style, with rice wine vinegar, spices, and shiso. Orange bell peppers and organic locally-grown tomatoes rounded out the vegetable platter. Accompanying the vegetables was a dip prepared with fresh edamame, chipotle peppers, and roasted onions.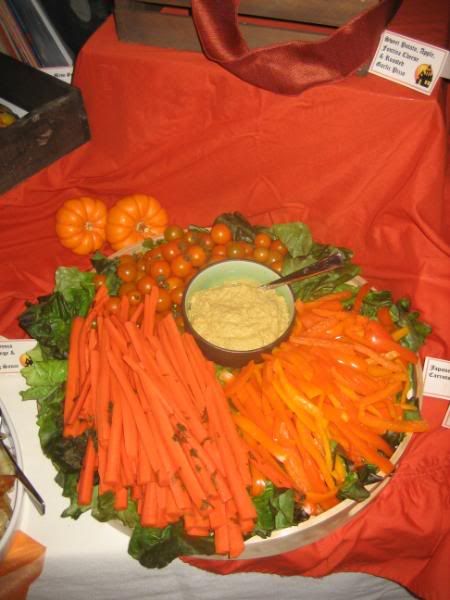 Sweet potatoes are orange... and the perfect topping for a northern Italian-inspired pizza. We started with a whole-wheat crust, which we topped with a roasted garlic bechamel and fontina cheese. Rosemary-infused roasted pears and sweet potatoes, with a dusting of Parmigiano-Regianno cheese completed these crispy and sweet pizzas.




Japanese kabocha squash is a delightfully firm and flavorful member of the squash family. Firmer than acorn squash, and more complex than pumpkin, the kabocha is a perfect squash for marinating and grilling. Continuing a Japanese theme, we marinated the squash in white miso for earthy salty flavor, molasses for sweetness, and spices. Once grilled, the squash caramelized, bringing the natural sweetness forward to be complemented by the smokey molasses flavors.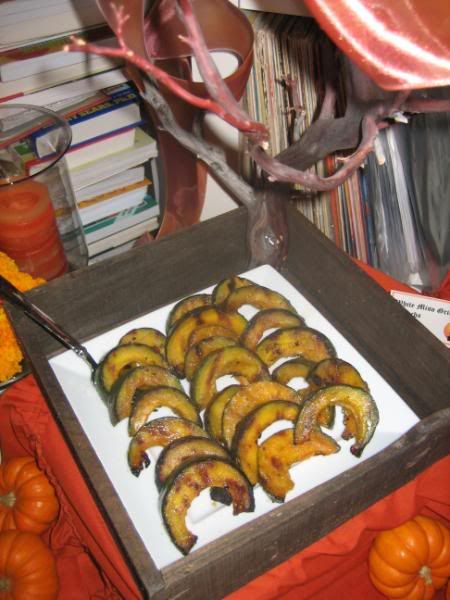 Shrimp marinated and grilled in apricots and curry was a beautiful centerpiece of the buffet. Succulent and sweet shrimp, grilled and skewered, presented exotic curry flavors while maintaining a deliciously sweet (and orange) appearance due to the apricots. Flanking the shrimp are baby squid braised in dry Spanish wine and smoked paprika.
Next on our buffet was chicken breast slow-braised in orange juice and sherry, cooked with orange-
brined
green olives, fennel, and orange peppers. The meat-- tender and infused with the orange-sherry braising liquid-- was the perfect foil to the acidic olives and earthy fennel.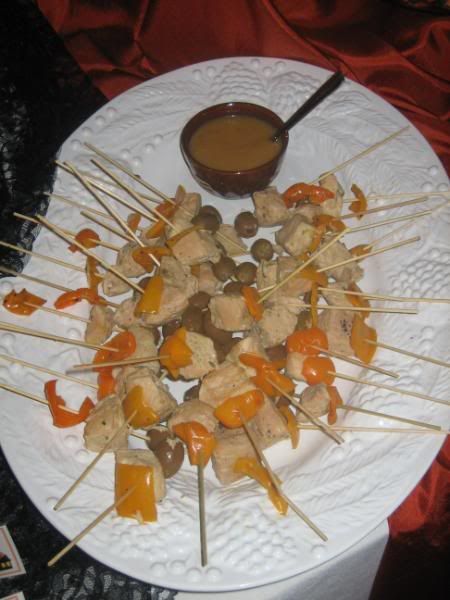 Wild mushroom and Pumpkin risotto cakes-- crispy on the outside and molten on the inside-- were a crowd favorite. Starting with locally grown mushrooms and sugar pumpkins, we prepared a deliciously creamy risotto infused with fresh thyme and sage. Pan fried, these risotto cakes were served with an autumn fruit chutney-- highlighting locally grown apples and pears, chili peppers, and a variety of dried fruits. Sweet and somewhat spicy, the chutney was an appropriate foil to the richness of the risotto cakes.
Chicken and vegetable
gyoza
(pan-fried dumplings prepared in a Japanese style), were served with a soy, orange, and sesame dipping sauce. One thing is for sure, no matter what party we serve these at, they go fast!
Thinking about foods that are orange, we realized that salmon (and particularly smoked salmon) is generally a vibrant orange color. To serve our smoked salmon, we hand-rolled and baked biscuits rich with goat cheese and cracked
tellicherry
pepper. On each biscuit we spread some dill butter, on which we served the Norwegian smoked salmon. Pretty and delicious!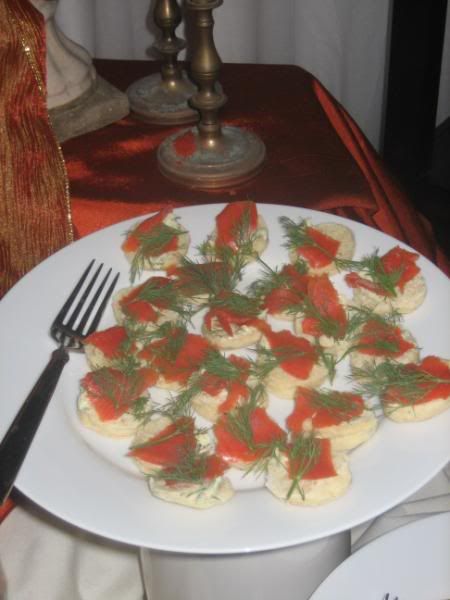 An
orenji
favorite-- and one of our most frequently requested items-- are our rosemary and white wine poached apricots stuffed with
gorgonzola
cheese and
applewood
smoked bacon. These little
gems
are all at once sweet, salty, smokey,
acidic, and
rich. Bite-sized, they are a perfect appetizer for any festive holiday gathering!
Thai curry marinated pork tenderloin was grilled to perfection-- caramelized and charred on the outside, tender and juicy on the inside. Served with an orange and curry reduction, this meat was delicious-- fiery
spicy
and sweet.