After a brief delay spent preparing pounds and pounds of Valentine's Day treats (more on that later), we return to our coverage of the East coast housewarming we recently catered. Our previous post discussed the savory food, and this post will focus on the sweet conclusion!
Desserts received royal treatment, presented on their own separate buffet from the savories. They ran the gamut from truffles to cheesecakes to tarts to warm caramel apple bread pudding-- delicious on a cold winter's day!

Three individual cheesecakes started our dessert buffet off in high style! Highlighting the winter holiday theme was an eggnog cheesecake with caramelized pistachios. A spiced pumpkin and bittersweet chocolate cheesecake was smooth, creamy, and rich-- the bitterness of the chocolate perfectly complimenting the sweet aromatic pumpkin. Lastly, a milk chocolate and caramel cheesecake was smooth and subtle. Decorated with chocolate lattice work and hand painted leaves bittersweet chocolate leaves, the cheesecakes were both pretty and tasty!
Perfect the holidays, an assortment of cookies met our party-goers eyes. Our famous pine nut and pistachio biscotti drizzled with white chocolate are always a crowd pleaser. Viennese shortbread with mocha buttercream and bittersweet chocolate melt in the mouth! Holiday vanilla and cardamom cookies were dazzling with different colored sugars. And shortbread fingers with raspberry and apricot preserves were both sweet and crumbly, rich and buttery.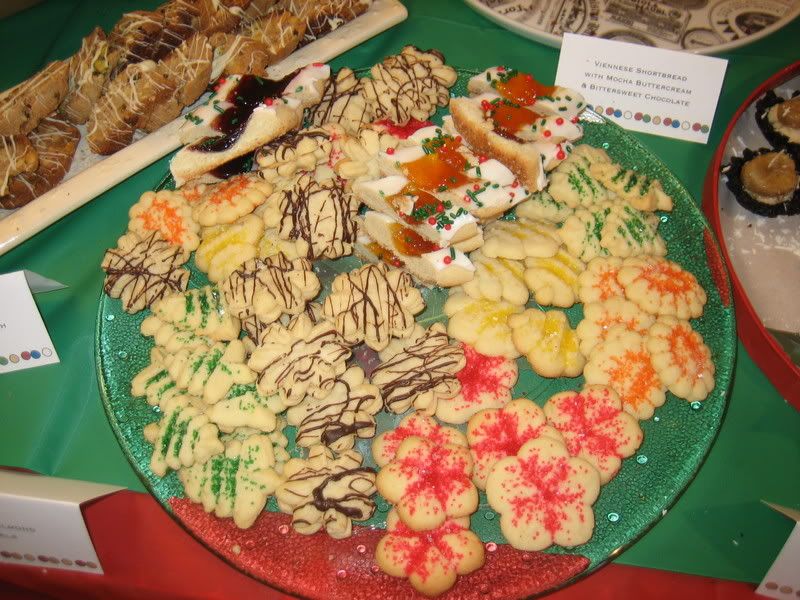 Double chocolate fudge brownies and festive krispy cereal treats adorned with bittersweet and white chocolates brought out the child in all present!

Hand-rolled truffles provided the perfect bite-sized moment of intense flavor: white chocolate and orange blossom, bittersweet chocolate and chili pepper, white chocolate and pumpkin, and milk chocolate and garam masala-- Each better than the last!

Next up on the dessert buffet were miniature tartlettes-- these with a chocolate cookie crust, bittersweet chocolate ganache, white chocolate-peanut butter mousse and caramelized bananas. One of our most popular desserts (and most frequently recommended), these tartlettes are equally delicious regardless of what size we make them!

Shortbread crust infused with vanilla played host to macadamia nut praline and French chocolate mousse in these tasty tartlettes. Sweet and buttery, the praline easily stands up to the dark flavors of the light bittersweet mousse!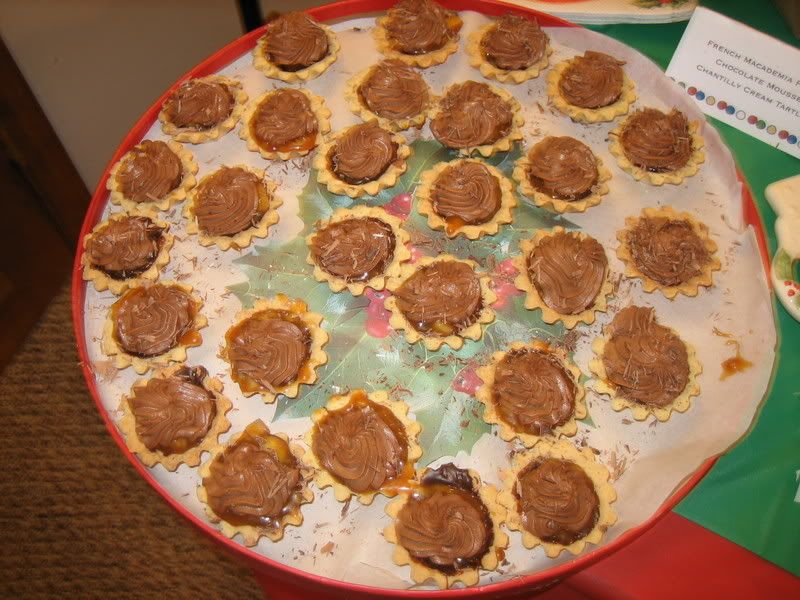 Fresh peach and blueberry tartlettes with a brown sugar streusel crust completed our trifecta of tartlettes!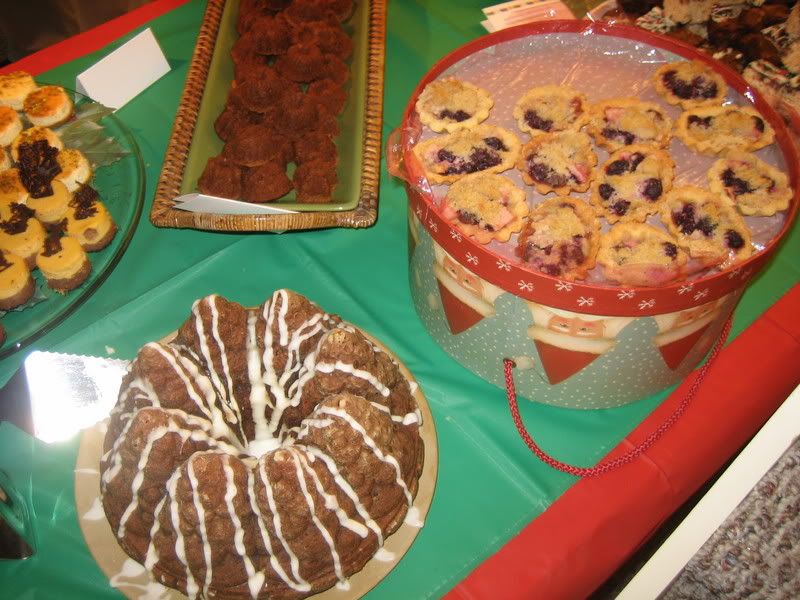 Nothing says winter like gingerbread, so we created a delightful brown sugar gingerbread with cranberries and pine nuts-- rich with winter spices and dark molasses, the gingerbread was light and flavorful-- equally as good with a cup of freshly brewed coffee as with a glass of red wine. Miniature gingerbreads (pictured above) were devoured by children and adults alike!
To warm up cold party-goers, a delicious warm bread pudding was served. Full of oven-roasted and caramelized apples, soft brioche bread, and a delicious vanilla-infused custard, the warm bread pudding was smooth, creamy, and decadent. Topped with a warm whisky-praline glaze and fresh Chantilly cream, it was enough to encourage guests to ignore the savory food and start with dessert!

We think back fondly on the New York housewarming event, grateful to have been a part of such a special day... and here at orenji catering, we look forward to contributing to your next event!