Our list of Valentine's Day treats continues, with a special look at our hand-crafted sea salt caramels enrobed in milk chocolate.
Smooth, buttery, and creamy, these caramels combine all this is good about sweets, with the subtle earthy saltiness of sea salt-- in this case, pink flaked sea salt from the Hawaiian islands. While our pictures do not do the color justice, the sea salt we used with a beautiful shade of pink-- the salt itself colored by the volcanic-rock when enriches it with a unique and complex mineral taste!


Inside, the caramel combines sweet creamery butter, cream, sugar, vanilla, and of course, sea salt. This delicate mixture is cooked... and cooked... and cooked until it reaches the consistency of smooth, delicious caramel. After cooling and setting, we cut each piece by hand, enrobing it in the smoothest and richest Belgian chocolate. A sprinkle of sea salt on top completes these show-stopping confections!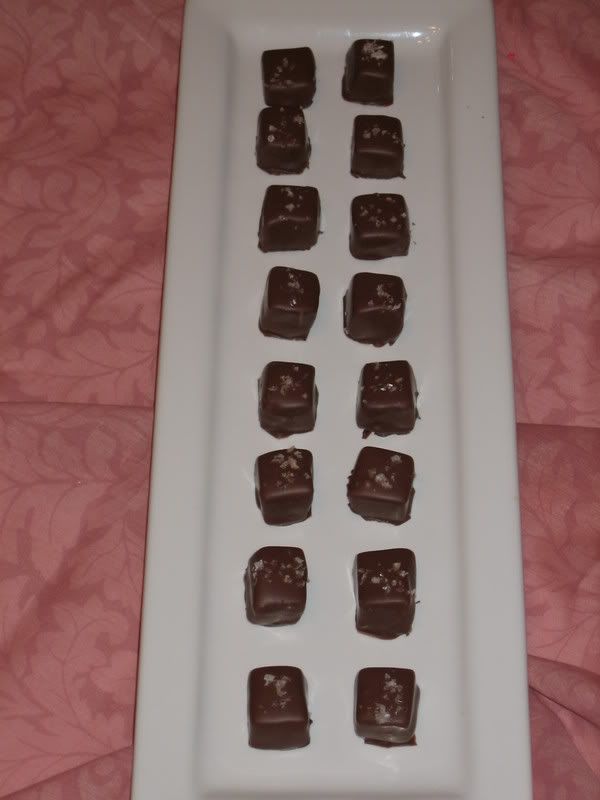 We sold each and every caramel that we hand-crafted... but looking at these pictures, we wish we had saved some for ourselves! We're confident, however, that we will be making these again soon... perhaps for Easter! Until then, keep checking back, as our review of orenji's Valentine's Day treats continues!