Here at orenji catering, we had a very busy Valentine's month. Following publication of our 2008 Valentine's Day Pricing Guide, we were flooded with orders ranging from handmade chocolates to specialty brownies, tea cookies to hand-crafted confections, shortbread to festive krispy cereal treats! It's with this latter item that we will start our review of the Valentine's Day treats we created for our friends and clients to give to their loved ones...
In lieu of flowers this year, we had one friend and client order a dozen "long-stemmed" krispy cereal treat hearts. We were all too happy to take the challenge and create a delicious and beautiful bouquet!

Crispy cereal, vanilla, marshmallows, fresh creamery butter and chocolate candy pieces combined to create that magical taste so reminiscent of childhood! To top them off, we dipped half of each crispy "heart" into the finest smooth Belgian white chocolate, and then drizzled milk chocolate over the tops for textural and color contrast. With some whimsical white, red, and pink candy hearts, these treats were as festive as they were delicious!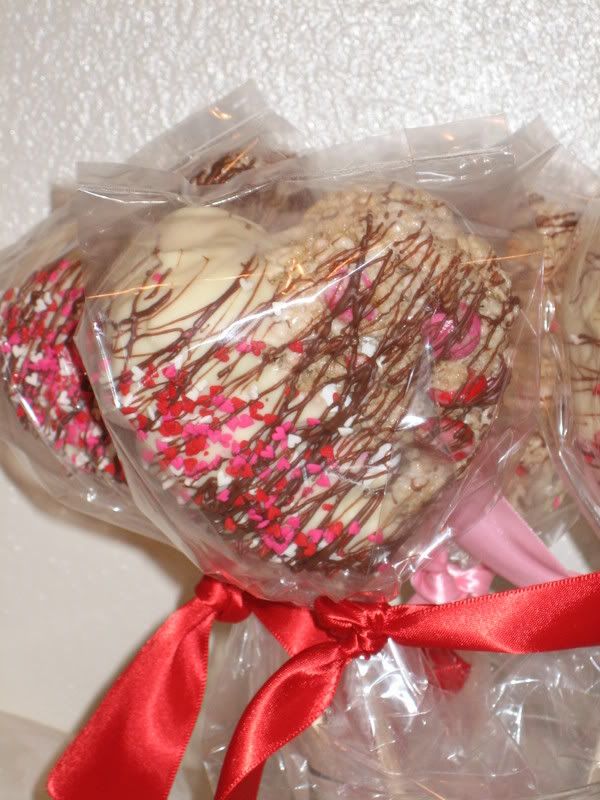 We wrapped each heart individually, placed on a long handle, and finished the look with gorgeous pink and red satin ribbons.
Now what Valentine wouldn't enjoy receiving a "bouquet" of tasty treats? Do check back, as more of our 2008 Valentine's creations will be the focus of attention for a few days...