Here at orenji catering, we love shortbread cookies-- they are so versatile and easily flavored that they are appropriate for almost every occasion! For Valentine's Day, we created two limited-time special offerings, both in the shape of hearts!
The first of the pair was a deliciously light and crisp shortbread infused with the wonderful high notes or Tahitian vanilla. Rolled thin, these flaky cookies were bathed in the finest Belgian milk chocolate, and then half-covered with freshly toasted coconut.
The deep flavors of the caramelized coconut mingled with the smoothness of the chocolate perfectly complementing the subtle shortbread. Delicious and beautiful!




The second of our pair of shortbread was also cut into heart shapes-- but this time, the flaky shortbread dough was infused with peppermint! The sharp taste of peppermint was achieved through natural peppermint oil, but also via the addition of ground peppermint candies to the dough-- an addition which resulted in a pleasant pink color for the cookies, perfect for the Valentine's holiday!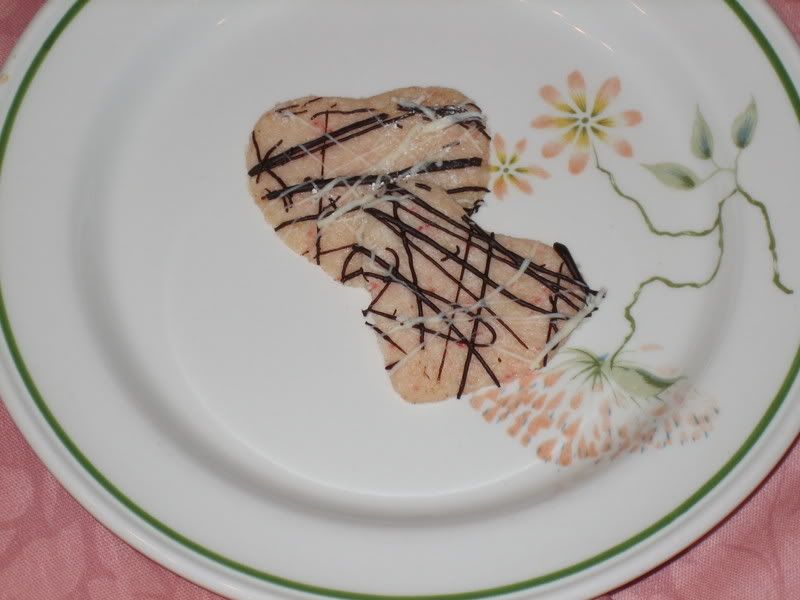 The peppermint shortbreads were covered with both white and bittersweet Belgian chocolate, the smooth and creamy chocolates balancing the buttery and minty flavors of the cookie.
As with all of our products, simplicity of packaging is important. We think our products should speak for themselves-- not the packaging! White boxes with holiday decoration were our choice for Valentine's Day. Simple, but elegant!
Our review of Valentine's Day 2008 will continue tomorrow, with some more confections. Be sure to check back!