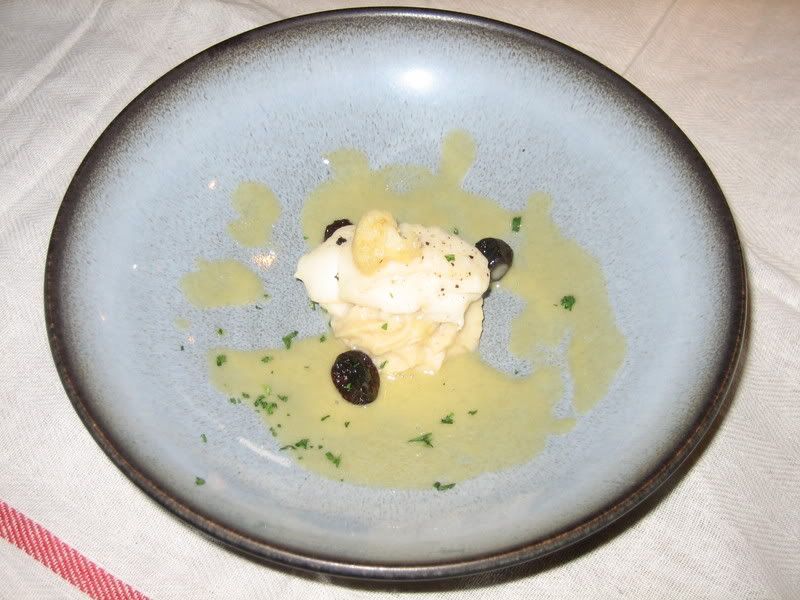 We continue our review of our recently prepared Colorado chef's degustation menu with a look at course one... a fish course.
Our aim with this course was to highlight the natural sweetness inherent in delicious diver scallops, and then to complement the sweetness with a smokey, earthy foil. In pursuit of that goal, we began this dish with a base of roasted cauliflower puree-- the roasting process adding both a deeper earthy flavor to the vegetable, but also providing a hint of caramelization and resulting sweetness.
The pan sauteed diver scallop was served atop this puree, and surrounded by a warm and tangy caper and white raisin espuma. This warm foam was both acidic from the capers, and sweet from the slow-cooked sun dried white raisins, balancing the earthiness of the cauliflower and the sweetness of the scallop. The airiness of the foam allowed the intensity of flavors, as had this been a traditional sauce or vinaigrette, it would have overwhelmed the delicate scallop.
A floret of caramelized cauliflower and some delicious warm, oven-dried grapes provided a textural contrast, as well as intense bites of flavor.

Tomorrow, course two... the first of two "palate cleansers" in our Colorado chef's degustation. See you then!