Our review of the recently imagined and prepared Colorado chef's
degustation
continues with the "fish course." In this course, we sought to marry the natural sweetness of fish with the earthiness of truffles and freshness of local produce.
This well-balanced course started with a vibrant green "soup" of braised pea shoots, finished with the earthy undertone of white truffle oil. The soup was fresh, slightly acidic, and the perfect complement to the richness of the risotto and fish.
Atop the soup, we placed a "risotto" made from Israeli pearl couscous-- a larger grain with more textural "bite" to it. The risotto was flavored with fresh asparagus, smoky saffron, and herbal tarragon.


Butter poached Chilean sea bass topped the risotto-- the sweetness of the fish shining through the simple preparation. The buttery flesh was perfectly moist and flaky, tastes melding easily with the risotto and soup.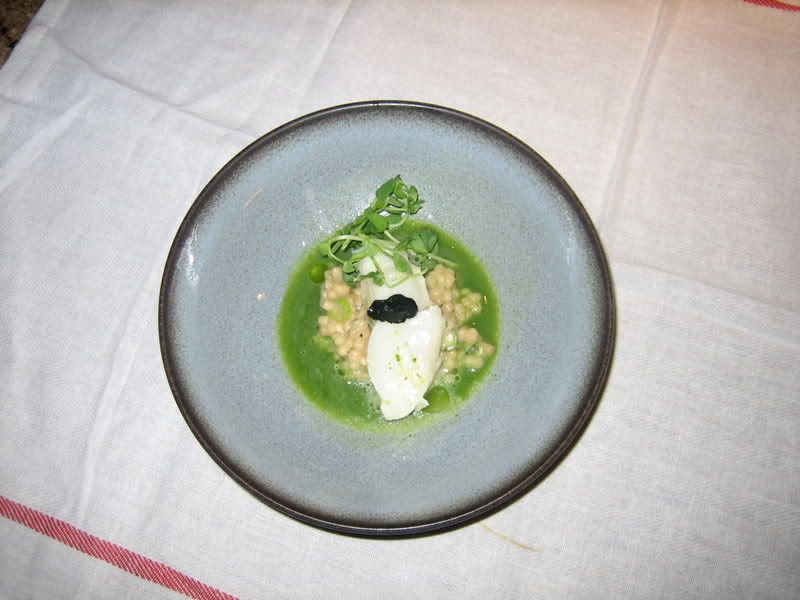 Sauteed black truffles finished the dish, a testament to the belief that 'a little goes a long way...' These truffles tied the dish together, pulling in the white truffle oil from the soup and creating a memorable gustatory experience.
Tomorrow, duck! Be sure to see what we came up with as a follow-up to this, our favorite fish course prepared in recent memory!