Easter 2009 presented us with the opportunity to create a grand variety of hand-molded and filled chocolates. We had so much fun, we wish that every holiday required chocolates... in fact, we are already expanding our handcrafted chocolate line for Mother's Day 2009 (because orenji chocolates are the perfect gift for your mother!)

The majority of our chocolates were packaged as "assortments" (as pictured above), but some clients know exactly what they like, and order accordingly. For example, Belgian chocolate enrobed graham crackers-- a childhood favorite which has been upgraded with high quality chocolate to an adult indulgence! Smooth bittersweet and milk chocolate and crispy deep graham crackers with just a hint of cinnamon are the perfect combination. Finished with Easter and springtime decorations, they are a festive gift tied with satin ribbon.
Another

orenji

classic-- perhaps our signature chocolate (for obvious reasons)-- was a popular item at Easter this year. We start by hand-candying delicate orange peel, a process which can take all day! The peel is washed and then gently boiled repeatedly (up to 12 times!) to remove the bitterness from the peel, leaving only the clean citrus sweetness. Then, the peel is sliced and gently cooked with sugar to crystallize and seal in the flavors. Once cool, we finely chop the peel, stirring it into the smoothest Belgian bittersweet and milk chocolates, hand-molding the result into chocolate orange slices. The orange peel creates a subtle flavor and textural contrast to the perfectly balanced chocolate. Packaged by the dozen, with our signature

orenji

foil, these are a perfect gift year round!
We now turn our attention to
orenji's
selection of chocolate truffle filled eggs. The first, and most popular filled egg this year, was a bittersweet chocolate shell streaked with white chocolate, and filled with bittersweet-cappuccino truffle filling. Deep and strong in flavor, these eggs were not for those with subtle taste buds! Also pictured below, milk chocolate eggs filled with a milk chocolate truffle filling infused with our hand-made sea salt caramel. Smooth and sweet, these eggs were rich and satisfying, although nearly impossible to stop eating!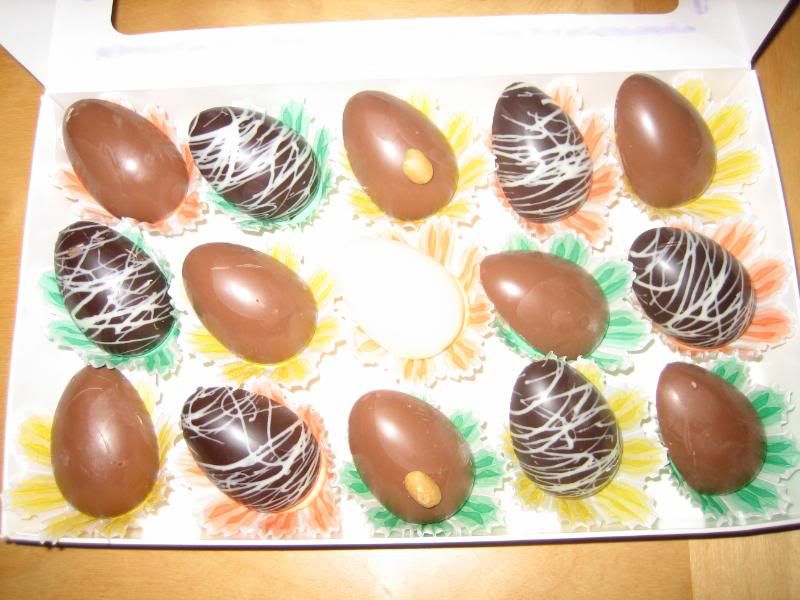 Smooth milk chocolate eggs filled with our peanut butter truffle filling and decorated with salted peanut halves, as well as white chocolate eggs filled with bittersweet chocolate and candied orange peel rounded out our selection of hand-poured chocolate eggs. Also pictured below, caramel and toasted coconut eggs, formed by hand, enrobed in milk chocolate and finished with toasted coconut flakes and a drizzle of bittersweet chocolate. Crunchy and sweet, these are the perfect gift for a coconut lover!

Our selections of Easter chocolates were packaged in two ways, depending on the order. Some assortments were packaged in flat windowed boxes with satin ribbons and Easter decorations.
In other cases, items were individually packaged, and assortments were shipped in pastel-colored take out containers, also finished with satin ribbon and festive Easter decorations!


However packaged, the contents were beautiful and delicious-- the perfect Easter gift for friends or family. When next we blog, a look at the Hot Cross Buns we created for Easter this year. Be sure to check back!