The last pizza we are going to fully review (before talking about desserts...) was inspired by the earthy and woody scents and flavors of the forest. It is the sixth (of ten) pizzas prepared and served at our recent Gourmet Pizza birthday party.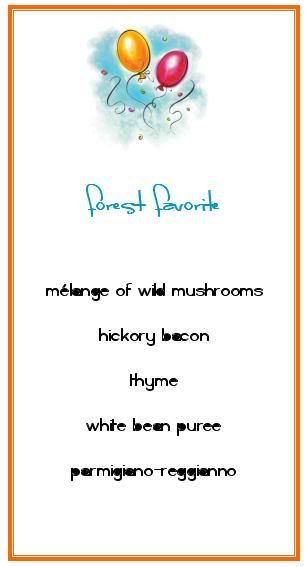 This gourmet pie started with a hand-stretched organic white flour crust infused with olive oil, sea salt, and fresh thyme. Baked until light and chewy, the crust was topped with smooth white bean puree seasoned with a hint of Parmesan, extra virgin olive oil, and local herbs. A saute of hickory smoked bacon and assorted wild mushrooms was spread liberally over the puree.




To finish off the pizza, and tie it together, freshly grated Parmigiano-Regianno cheese added a needed acid and salt to the dish, melding the earthy flavors of the mushrooms, smoky bacon, and smooth herbal white beans into a pleasing bite.


Rich,
melty
, and delicious, this pizza disappeared right before our eyes!
Tomorrow, we turn our attention to dessert... and what better way to celebrate a birthday then with birthday cupcakes! Be sure to check back...