What better way to end a festive gourmet pizza birthday party than with a selection of delicious orenji cupcakes? We can't think of a better way, and we'll describe them below. But first, just a glance at the four pizza varieties that we didn't review in depth.

The remaining four pizzas range from a traditional margherita to a Spanish seafood pizza to a spectacular and spicey Middle Eastern pie. While we would have loved to review each more fully, these pizzas didn't last long enough to take pictures of, so the "menu cards" will have to suffice until our next gourmet pizza party!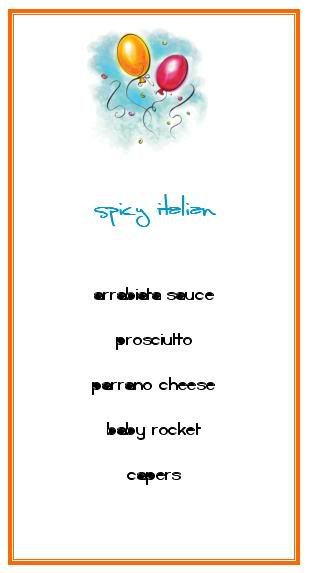 And on to our sweet conclusion...
We created three kinds of birthday cupcakes for our gourmet birthday pizza party:
1) Traditional Red Velvet Cupcakes with Refrigerator Icing (also available on our Mother's Day/ Spring 2009 Pricing Guide);
2) Carrot Cupcakes with Caramelized Golden Raisins, Cream Cheese Frosting, and Toasted Coconut;
and our favorite...
3) Orange Cupcakes with Bittersweet Chocolate Ganache and Candied Orange Peel...

Each of the cupcakes was rich and dense, moist and flavorful, topped with smooth creamy icing or whipped ganache. Small in size, it was difficult to eat just one... and in fact, most guests tried one of each before the conclusion of the party!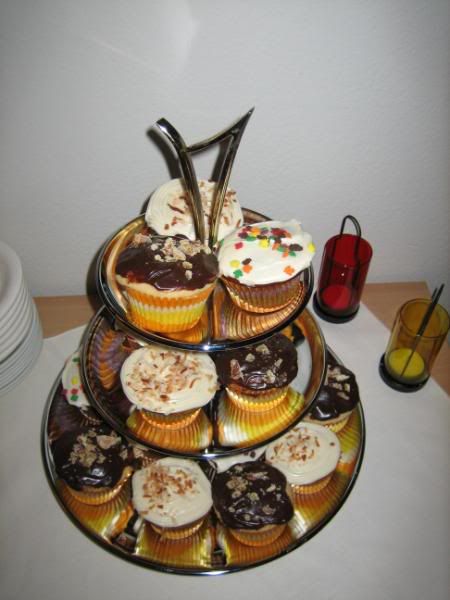 Orenji
speciality cupcakes are available any time... just contact us! (Unfortunately, cupcakes are unable to be shipped at this time, but are available for local pick-up or delivery).
We will turn our attention next to some desserts and cheesecakes recently created. Be sure to check back often for our latest posts!