Looking forward to the 2010 Winter Holidays, we created some new and exciting items for our
Winter Holiday Pricing Guide
(available by clicking
here
).
For the past few years we have been creating handmade marshmallows here in the
orenji
kitchens. This year, we have created a number of festive flavors—each one the perfect sticky consistency that you love in a marshmallow!
Our favorite of our marshmallow flavors is a classic vanilla marshmallow—made with Madagascar vanilla beans—to which we infuse the gentle, floral taste of Hawaiian lavender. Sweet and refreshing, these marshmallows are hard to stop eating!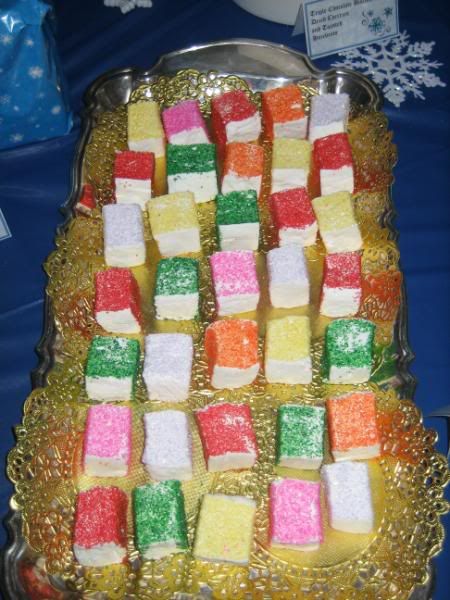 For the holidays, we created a pink peppermint marshmallow—reminiscent of a candy cane, these marshmallows are a lovely pink in color and surprisingly flavorful!
Marshmallows are also available in orange-scented, raspberry-scented, or cinnamon! Add some bittersweet chocolate to them, and they are the perfect holiday treat!
Like what you see?
It's not too late to order for local delivery! Find our Assorted Holiday Cookies in 41 varieties, as well as a host of delicious holiday treats, confections, breakfast pastries, and whole desserts on our
2010 Winter Holiday Pricing Guide
, available now by clicking
here
!
Not on the orenji mailing list?
Press the button on the left-hand sidebar, enter your information, and you will receive our future (safe and secure) marketing emails, pricing guides, and updates.