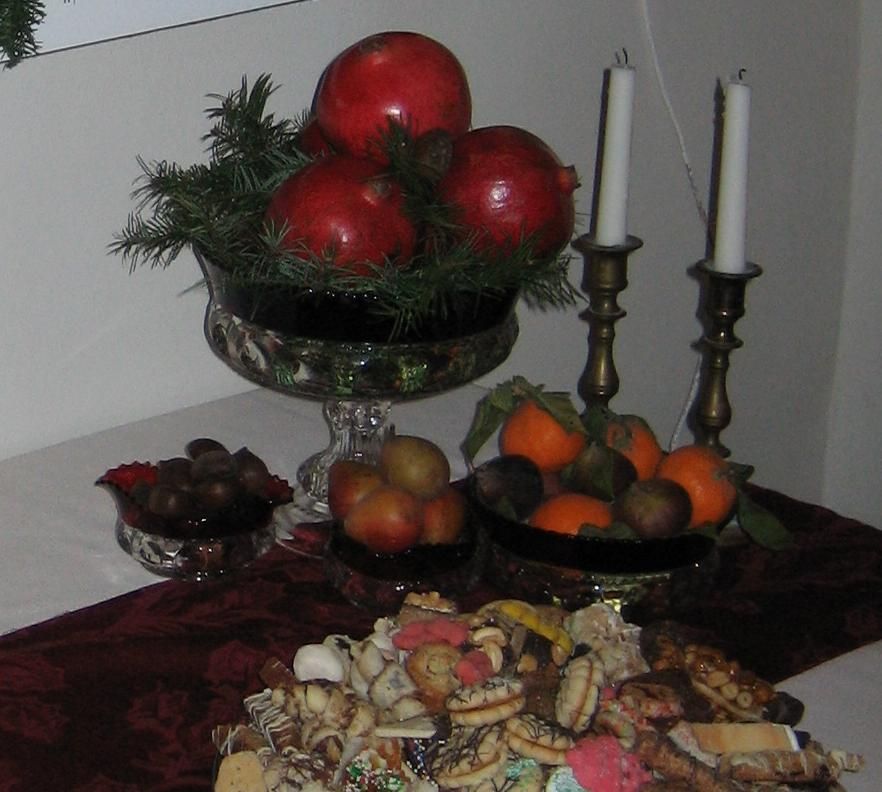 A few years ago, we "counted down" the 34 varieties of holiday cookies we made that year... Of course, since that time, a few cookies have been "retired," a few have been added, and some "take the year off" and stay in the orenji vault. This year, to mark our 25th Anniversary, we are producing our 35 existing "core" cookies, supplemented by six "featured" cookies. We hope tht you are as excited as we are!
Don't wait to order, as supplies promise to be limited this year!
Presenting the "34 Cookies of Christmas:"
1)
Vanilla and Cardamom Press Cookies
2)
Bittersweet Chocolate Cookies with Garam Masala
3)
Apricot and Almond Shortbread
4)
Coconut Kisses
5)
Chocolate Caramel Surprises
6)
Peanut Butter Secrets
7)
Maple Pecan Logs
8)
Walnut Dreams
9)
Pear and Hazelnut Rugelach
10)
Vanilla Shortbread "Acorns"
11)
Chocolate Gingerbread Cookies
12)
Pine Nut and Pistachio Bisotti
13)
Orange and Chocolate Chip Shortbread
14)
Chocolate-Dipped Peanut Brittle Fingers
15)
Lime Meltaways
16)
Peanut Butter Kisses
--
Retired 2009
17)
Guava Thumbprints
18)
"Hugs and Kisses"
19)
Triple Chocolate, Hazelnut, and Dried Cherry Biscotti
--
Retired 2009
20)
Viennese Shortbread with Mocha Buttercream
21)
Ginger, Pecan, and Dried Cranberry Shortbread
22)
Caramel Pecan Tarlets
23)
Lemon Blueberry Tarlets
24)
Cappuccino Flats
25)
Tropical Log Jams
26)
Mocha Cashew Toffee Bars
27)
Kahlua and Marcona Almond Balls
28)
Chocolate Sandwich Cookies with White Chocolate and Raspberry Ganache
29)
Chocolate & Nut "Dogbones"
30)
Toasted Coconut Shortbread
31)
Anise-Scented Fig and Date Swirls
32)
Hawaiian "Teacakes"
33)
Chocolate and Hazelnut Swirls
34)
Lavender Shortbread
35)
Five-Spiced Sesame Cookies
36)
Eggnog Press Cookies
37)
Matcha Green Tea Shortbread
Tomorrow, a "sneak peak" at the first of our five "featured" cookies for 2010!
It's never too early to order!
Check out our offerings on the 2010 Winter Holidays Pricing Guide, available now by clicking
here
!
Not on the orenji mailing list?
Press the button on the left-hand sidebar, enter your information, and you will receive our future (safe and secure) marketing emails, pricing guides, and updates.