Looking forward to the 2010 Winter Holidays, we created some new and exciting items for our
Winter Holiday Pricing Guide
(available by clicking
here
). Of course, we have also been busy providing sweets for holiday events!
We continue our look back at the miniature dessert party we assisted with this year with a look at cakes and tarts.
We start with one of our "signature" desserts— Our French Chocolate Macadamia Nut Praline Tart. We have been making this tart (in both full size and miniature) for over 20 years. It remains one of our most requested and most popular items! Our signature orenji tart crust is filled with a creamy, buttery macadamia nut praline. This silky caramel is topped with a dense bittersweet chocolate mousse, and topped with a lightly sweetened whipped cream. In this case, a sprinkling of freshly toasted coconut added both textural and visual contrast. These flew off the dessert buffet, with guests asking for more!
We also created two "new" cakes this year, for the holiday dessert party. One was our
Caramelized Pear Cake with Salted Caramel Icing
—a recipe we developed for Thanksgiving 2010. These little brown sugar cakes were full of dense, sweet fruit, and topped with smooth, sweet, and somewhat salty caramel icing. Sprinkled with our ground
Espresso and Cashew Brittle
for a bitter contrast, our little cakes garnered rave reviews!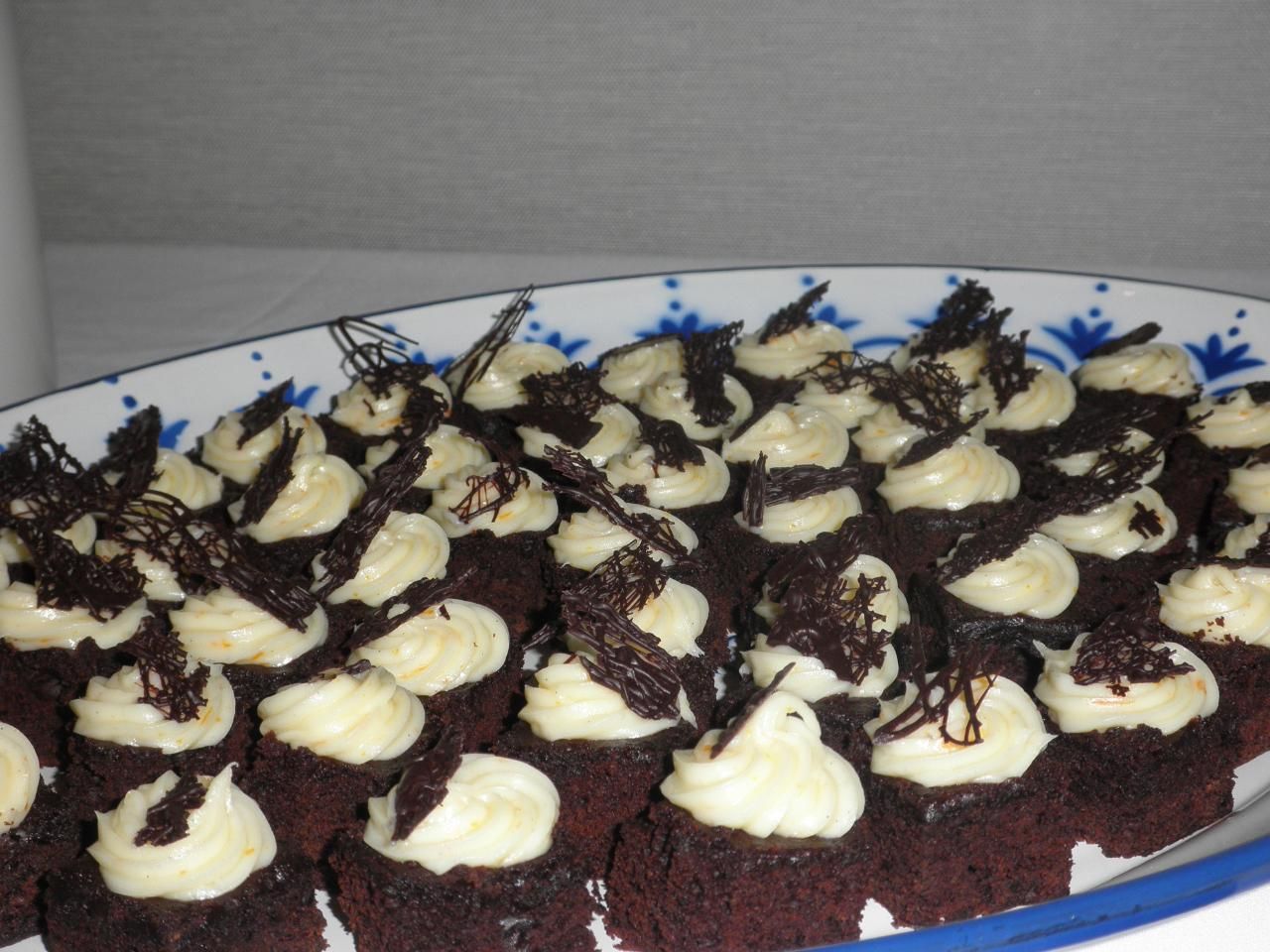 The last of the seven desserts created for this party was a dense chocolate gingerbread, made all the deeper in flavor with the addition of freshly brewed espresso, olive oil, and bitter chocolate and cocoa. Perfectly spiced with fresh and crystallized ginger, this deep cake was lifted with a smooth and creamy cream cheese frosting—scented with the fresh flavors of orange and vanilla!
Not on the orenji mailing list?
Press the button on the left-hand sidebar, enter your information, and you will receive our future (safe and secure) marketing emails, pricing guides, and updates.