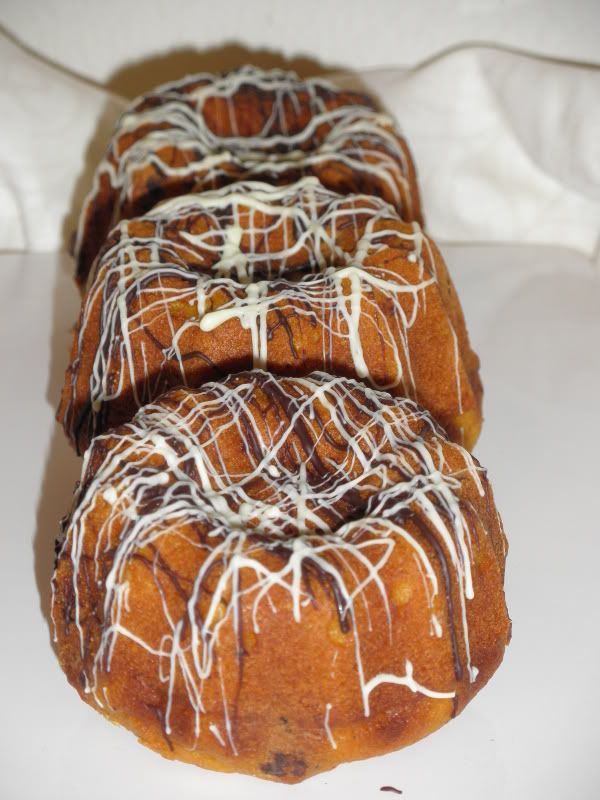 We conclude our review of treats prepared for the 2009 winter holidays in this post. It was a busy year, and one we won't soon forget! The first treat is one that has become one of our most popular items during the fall and winter holidays-- rich and dense pumpkin spice poundcake with Belgian bittersweet chocolate chips. You have likely read about these fanciful cakes in other posts on this blog-- but those were full-sized desserts! Pictured here, these cakes make a perfect accompaniment to afternoon tea, or a festive individual dessert after your holiday meal!
We drizzle each cake individually with both confectioners' icing to add some gooey sweetness, and rich, bittersweet tempered chocolate for visual and textural contrast!

Wrapped in festive cellophane bags, and tied with snowflake ribbon and hand-crafted decorations, these cakes are the perfect gift... if you don't eat them yourself before giving them away!

The second treat highlighted in this post is our popular milk chocolate and peanut butter popcorn! Crunchy caramel corn, coated in a smooth and sweet peanut butter coating, tossed with roasted salted peanuts, and drizzled with creamy Belgian milk chocolate, this popcorn is addictive and delicious! It's the perfect gift for the peanut butter lover in your family! Presented in snowflake bags, and decorated with beautiful wired ribbon and festive holiday ornaments, these bags of gourmet popcorns are show-stopping gifts!
Holiday sprinkles add a festive touch to the popcorn!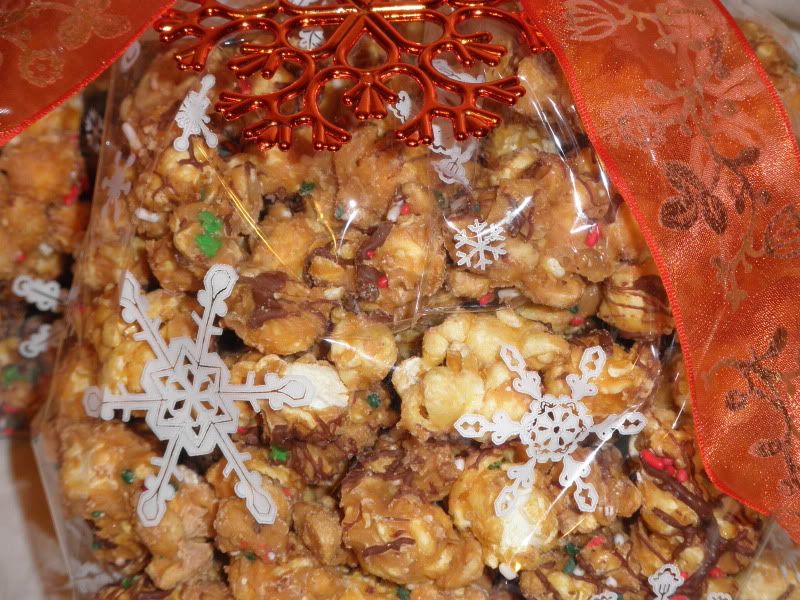 Dried Cranberry, Orange, and Bittersweet Chocolate Chip Scones are another delicious treat we created this year-- perfect for that holiday breakfast or brunch. A lightly orange-scented dough is chock-full of plump dried cranberries and smooth bittersweet chocolate chips. Dense and moist, these scones are a delicious snack, breakfast pastry, or even dessert!
Festooned with ribbon, these are also perfect for gifting!

Lastly, a selection of our handmade confections creates a thoughtful gift. Mint, Orange Blossom, and Rosewater confections-- dry on the outside, smooth and creamy on the inside-- create a taste explosion. Perfect for nibbling around a fire, or for serving at an elegant dinner party, these "mints" are a fan favorite!