We continue our countdown to Thanksgiving, by looking at some of our favorite Thanksgiving desserts, confections, and treats created in past years. All of the items we are covering are available on the
2010 Thanksgiving Pricing Guide
(available by clicking
here
). Give us a call or send us an email with questions or orders. We look forward to contributing to your special Thanksgiving gathering!
Yesterday, we looked at our delicious
Sweet Potato Tart with Caramelized Marshmallows and Toasted Pecans
. Today, we turn our attention to our Pumpkin and Bittersweet Chocolate Chip Cake, one of our most popular items during both the Thanksgiving and winter holidays!
We begin with oven-roasted sugar pumpkin, which we puree and spice with fresh cinnamon, ground nutmeg, and grated cloves. This fresh pumpkin puree is incorporated into a dense pound cake batter and studded with the finest Belgian bittersweet chocolate chips. Baked in a fluted tin, the cake is eye-catching as soon as it comes out of the oven!
For color and textural contrast, we drizzle our pumpkin cake with bittersweet chocolate and a vanilla-infused confectioner's icing. With hand molded chocolate acorns and leaves, these cakes are ready for your holiday meal!
While we have always envisioned this as a conclusion to dinner, we are told that it is also perfect for breakfast, afternoon tea, and an any-time snack! Moist and dense, this cake will keep in the refrigerator for weeks… but we don't think it will last that long once you try it!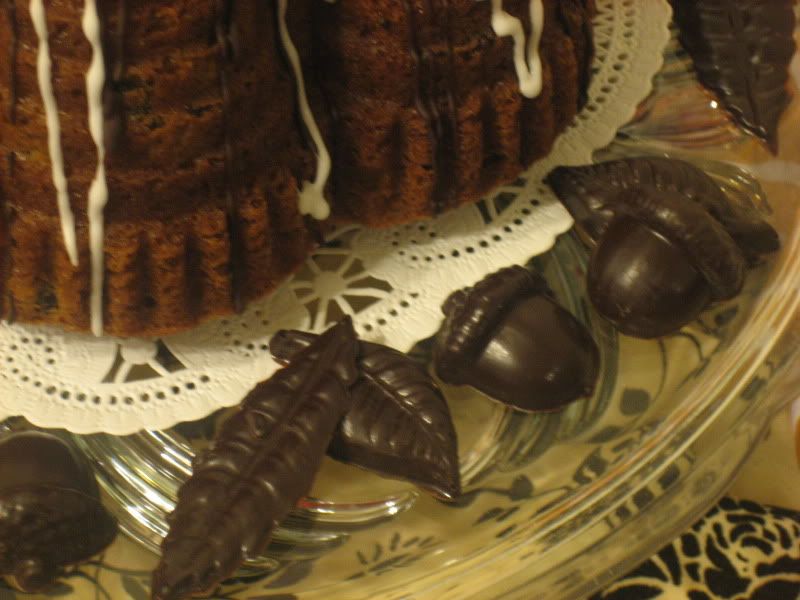 Like what you see?
Check out our similar offerings on the
2010 Thanksgiving Pricing Guide
,
available now by clicking
here
!
Not on the

orenji

mailing list?
Press the button on the left-hand sidebar, enter your information, and you will receive our future (safe and secure) marketing emails, pricing guides, and updates.
As we get ready for Thanksgiving 2010, we will continue reviewing some of our favorite Thanksgiving creations from years past in future posts! Be sure to keep checking back!